Last Updated on
Built in 1927 as the Statler Hotel, the newly renovated Boston Park Plaza stands on Arlington Ave. a block from Boston Common and the Public Gardens, and two blocks from the top of famous Newbury St.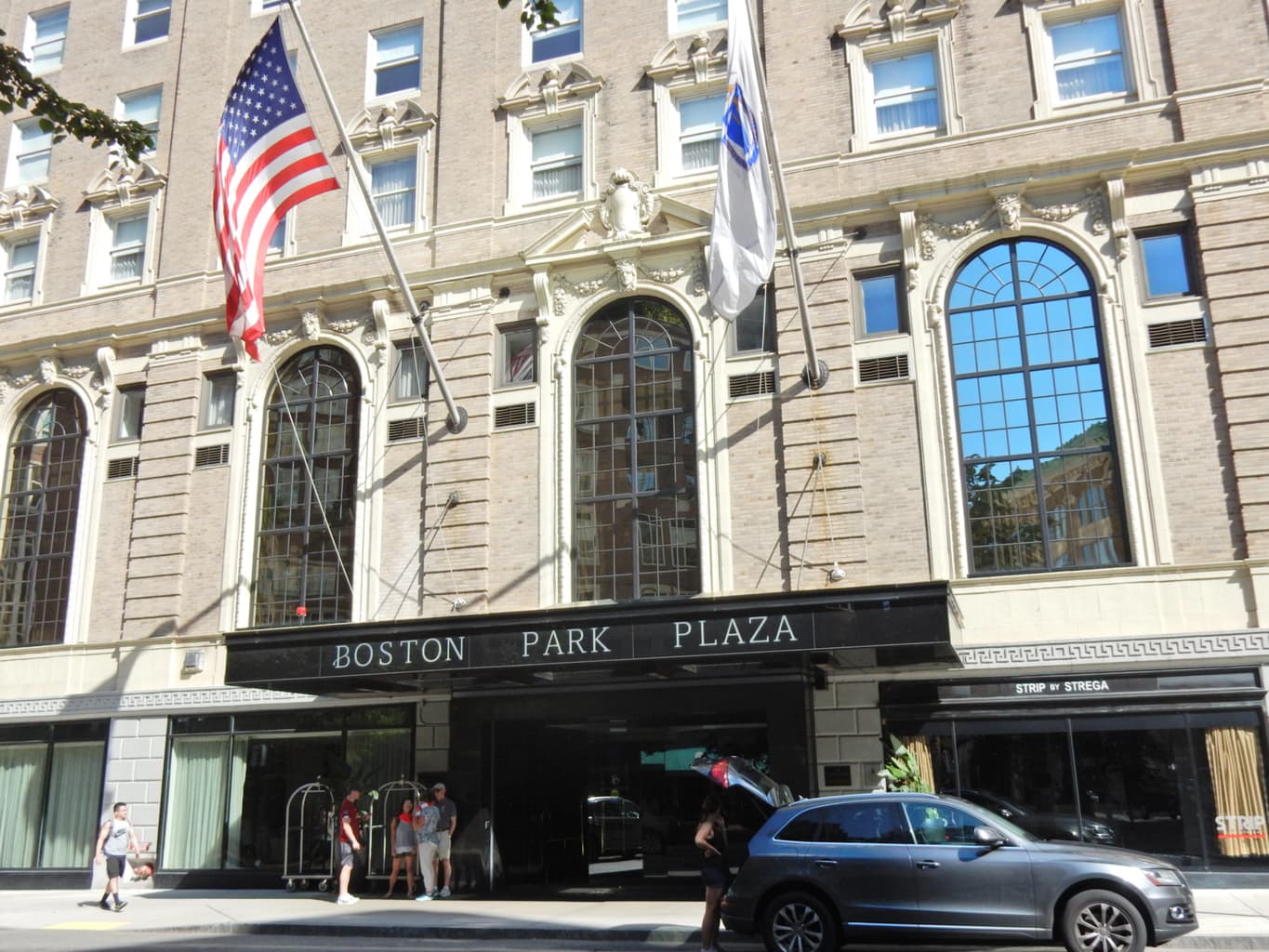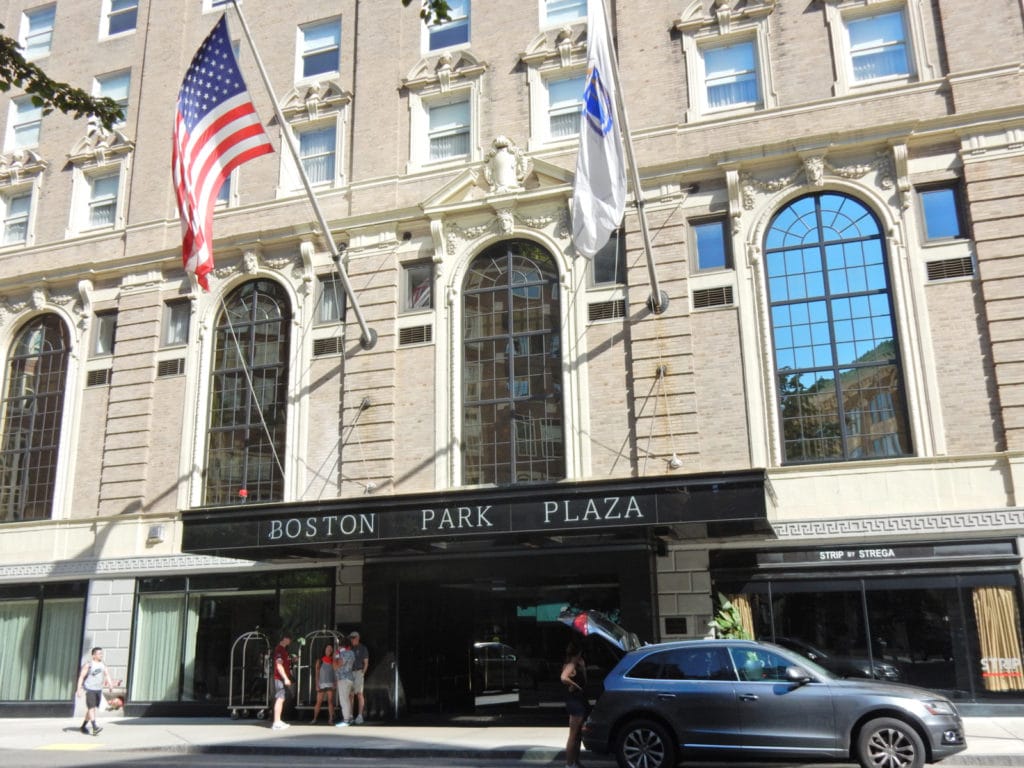 Over the years, the Park Plaza has welcomed US Presidents, foreign dignitaries, and Hollywood celebrities. But, as with any shining star, the hotel lost its luster in the later 1900's.
For its 90th anniversary in 2017, the Park Plaza went through a $100 million top to bottom renovation, and judging by the crowds checking in on a sweltering July Friday, the luster is back.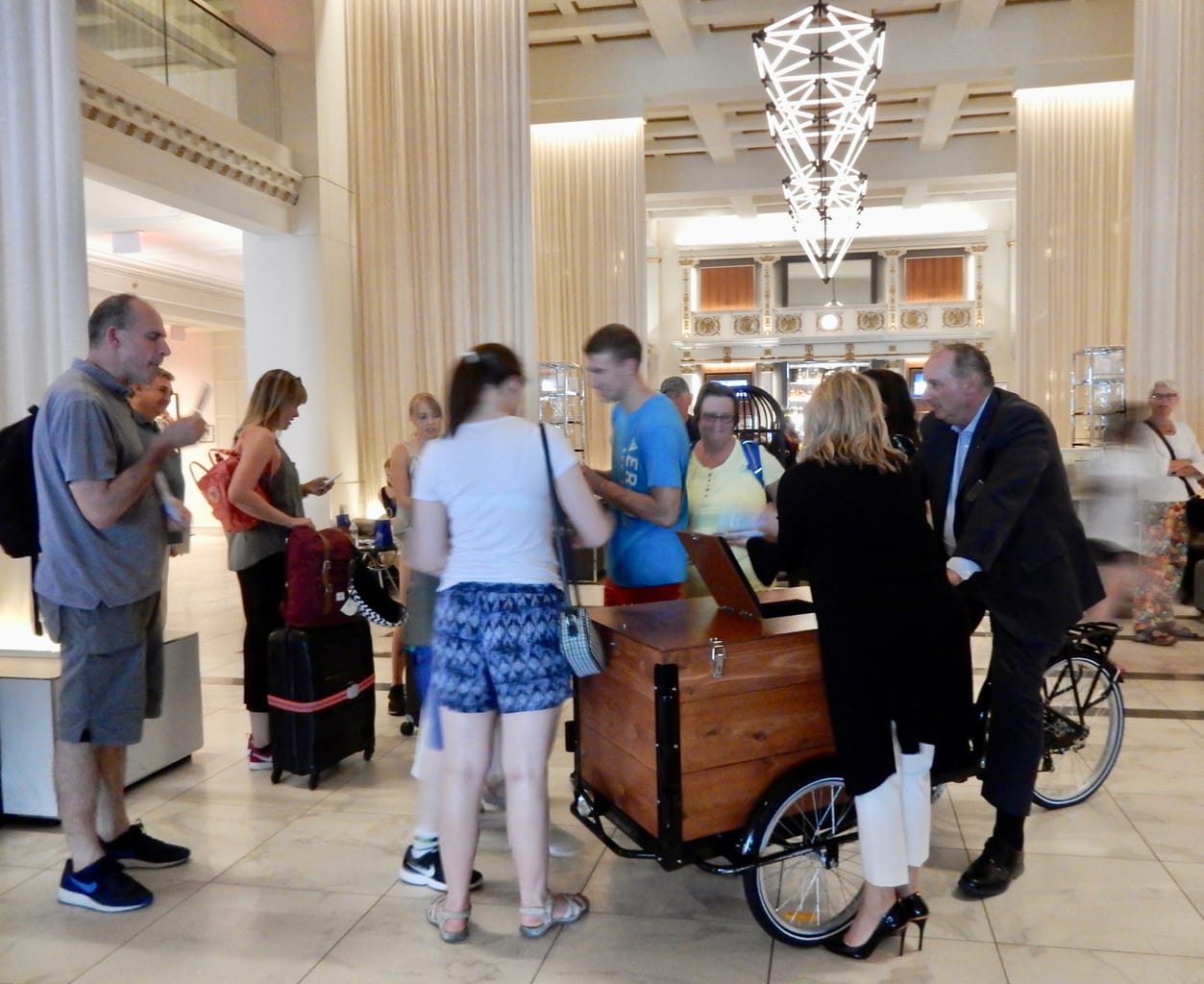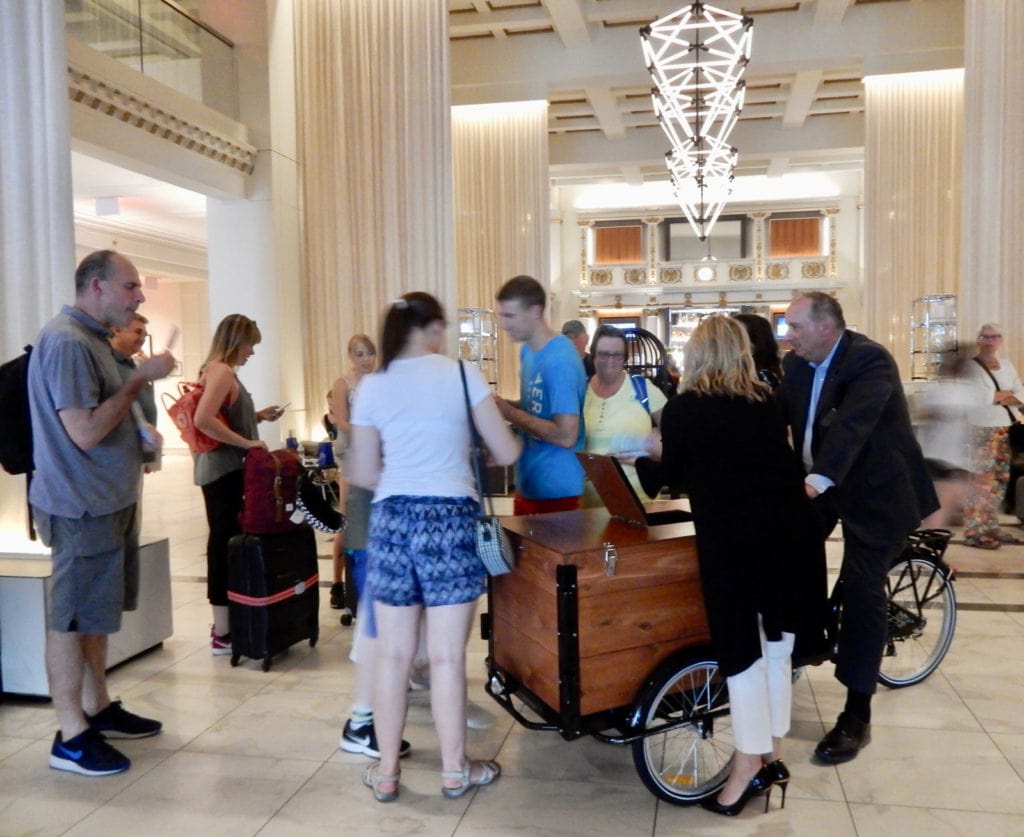 How did I like walking into the lobby on a very hot summer day and encountering a friendly guy peddling an old-fashioned ice cream cart? Incredibly much, thank you! Especially since the gourmet ice-cream bars were free for guests checking in on "Ice-Cream Fridays" in the summertime.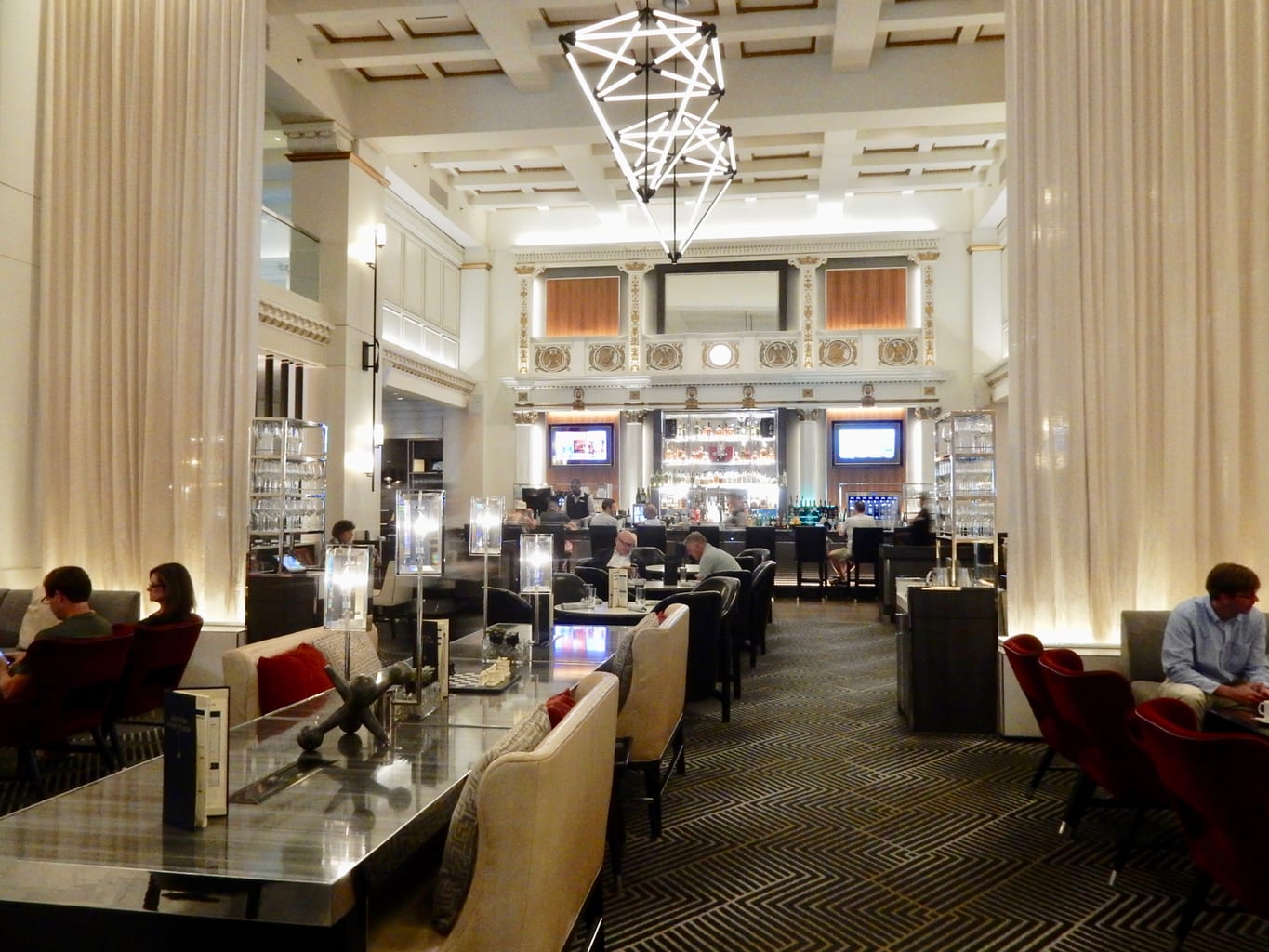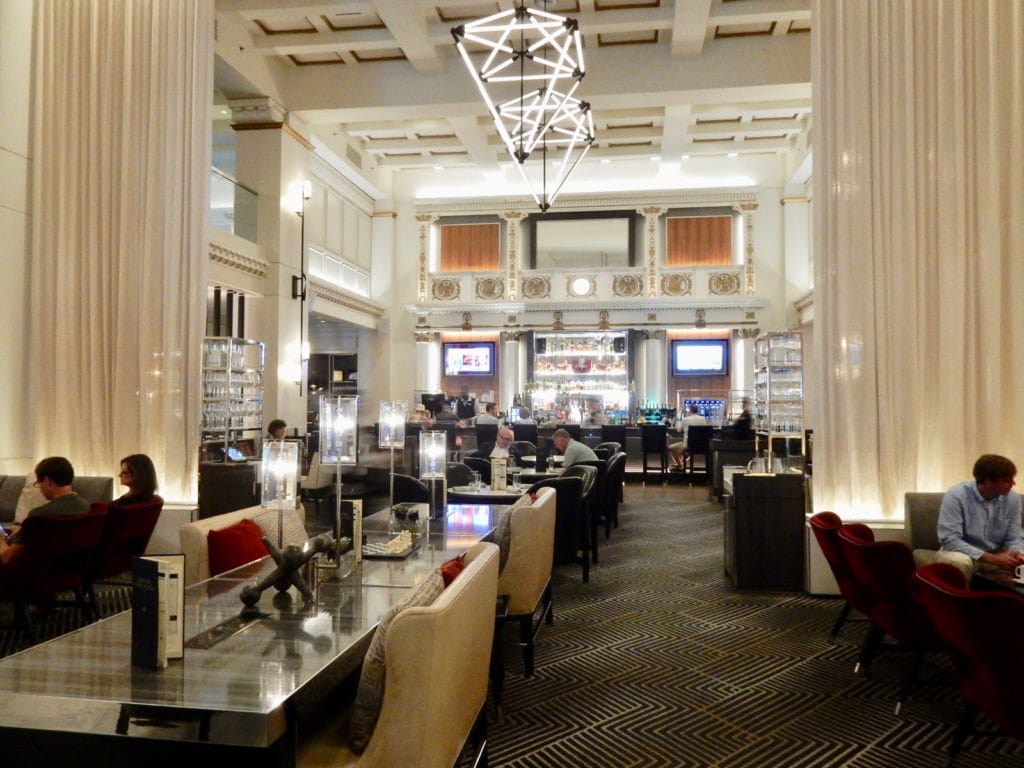 Memorable perks and experiences like this form a positive opinion of a place before you even have a minute gauge your surroundings. But the Park Plaza's new two- story lobby is a stunning room, anchored by a large bar, and full of tables, couches, and smaller nooks in which to wait for friends and family, have a drink or bite, or open a laptop.
Reception is friendly, efficient, and quick – even in my case, when pilots and flight attendants from Italy (Air Italia) were all checking in at the same time I was. Apparently, the Park Plaza is a favorite among airplane crews flying in and out of Logan Airport.
Rooms at Boston Park Plaza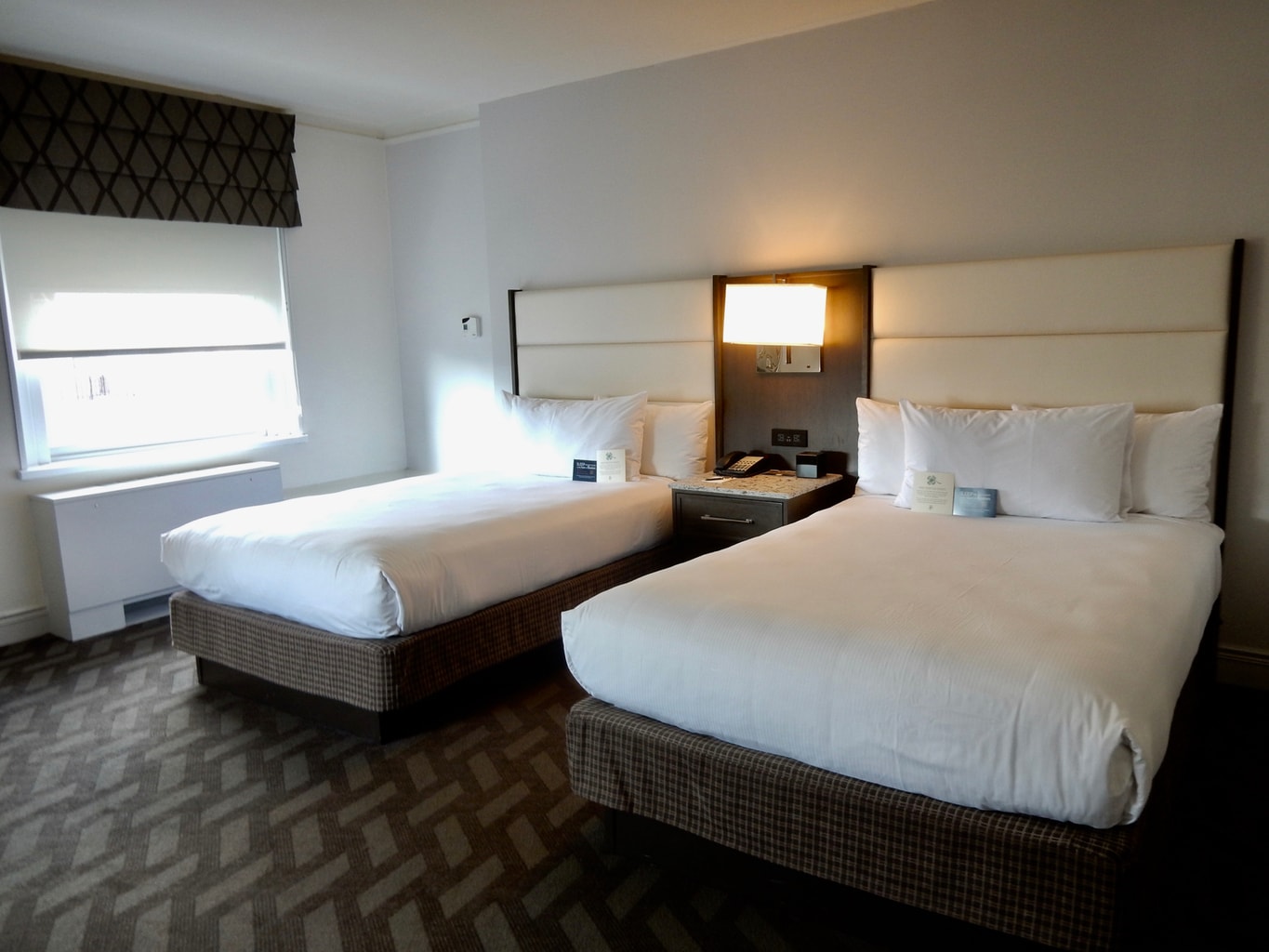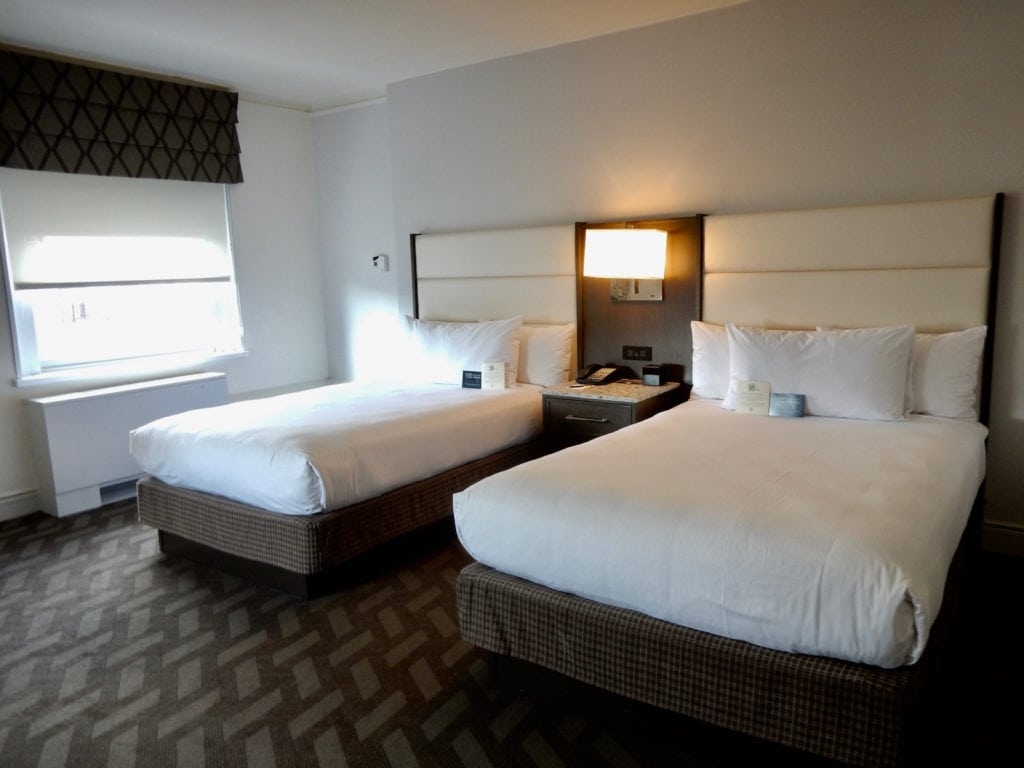 Guest rooms, with new patterned grey carpeting, contemporary grey valances, and several pieces of furniture along with beds clad in white duvets, are rather minimalist. Bathrooms have been updated with modern tile and raised ceramic sinks.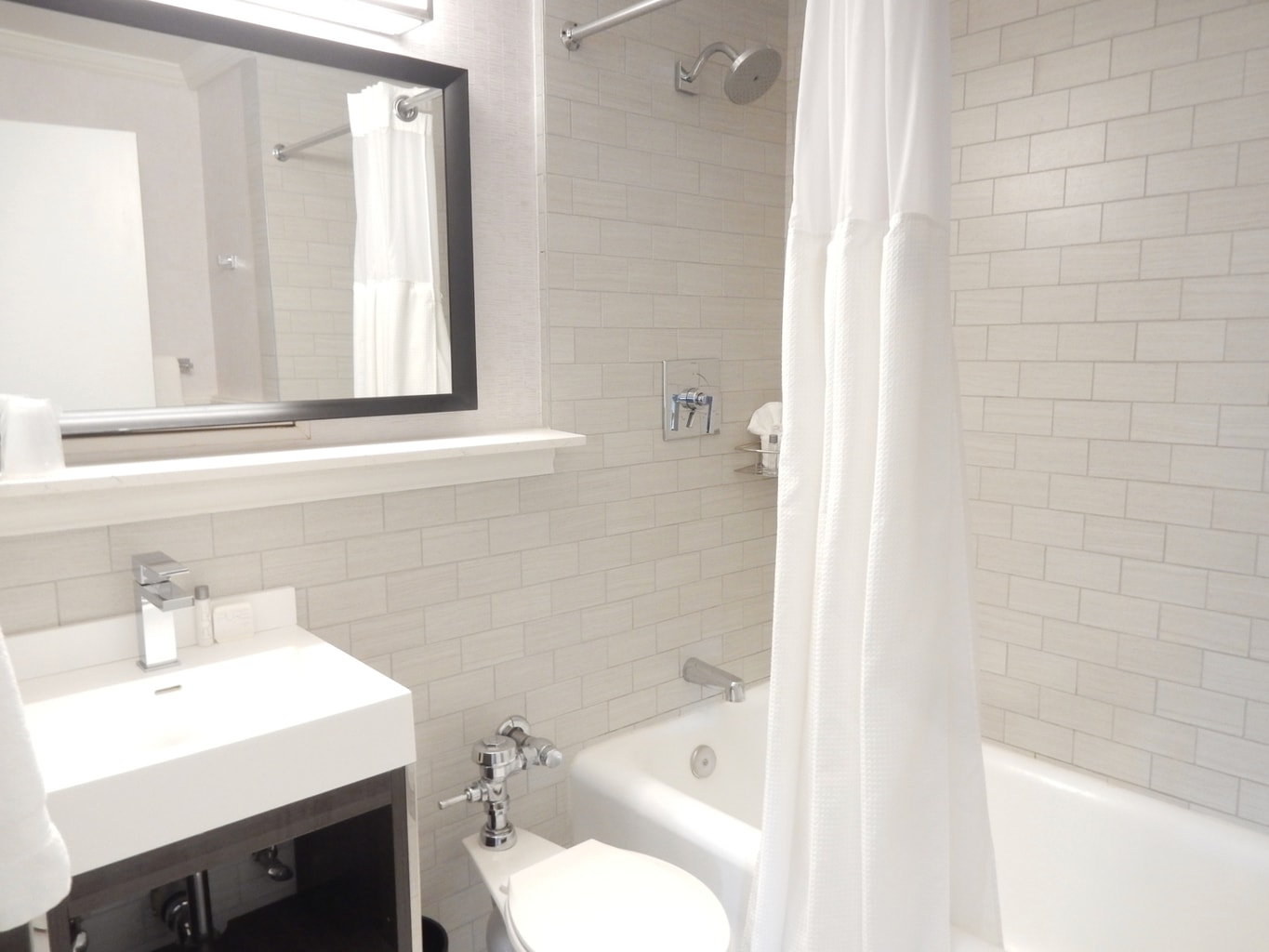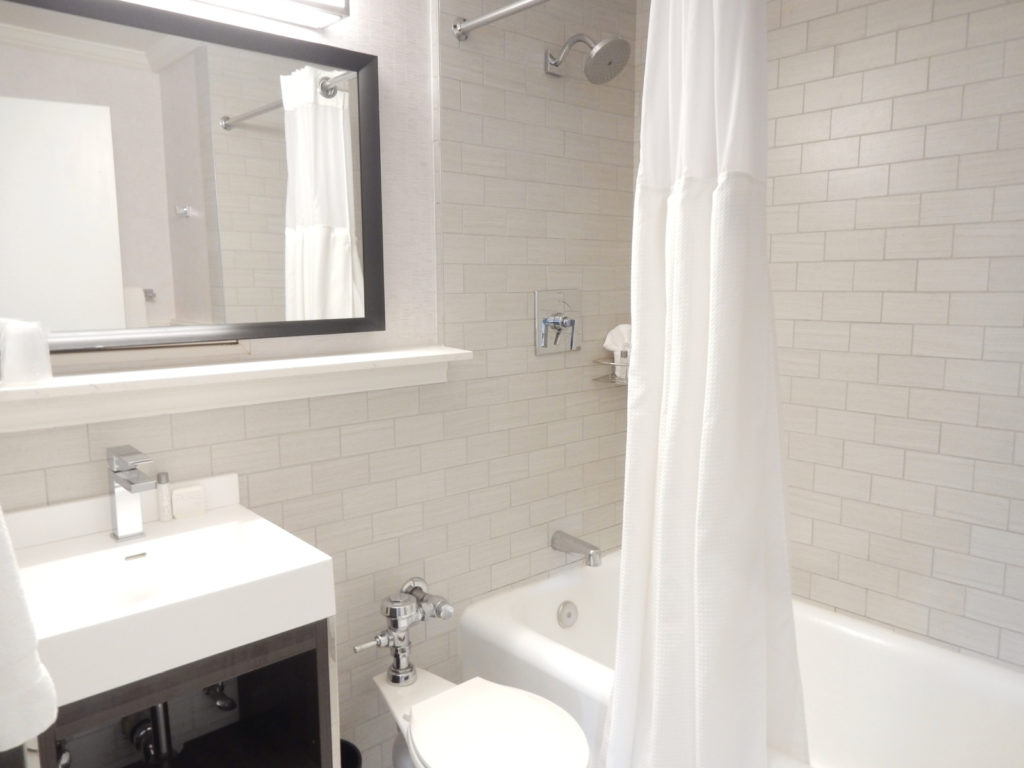 No art adorns the walls; there are no colorful throws or pillows for punch. But when it's 100 degrees outside, air conditioning turns each room into a bright cool sanctuary.
Dining at Boston Park Plaza
There are three opportunities for grabbing a bite without having to exit the property.
Off The Common encompasses the Bar and most of the lobby interior. Best to order craft cocktails, and appetizers like great fried calamari, Buffalo "Chicken Pops," and artisanal Flatbreads.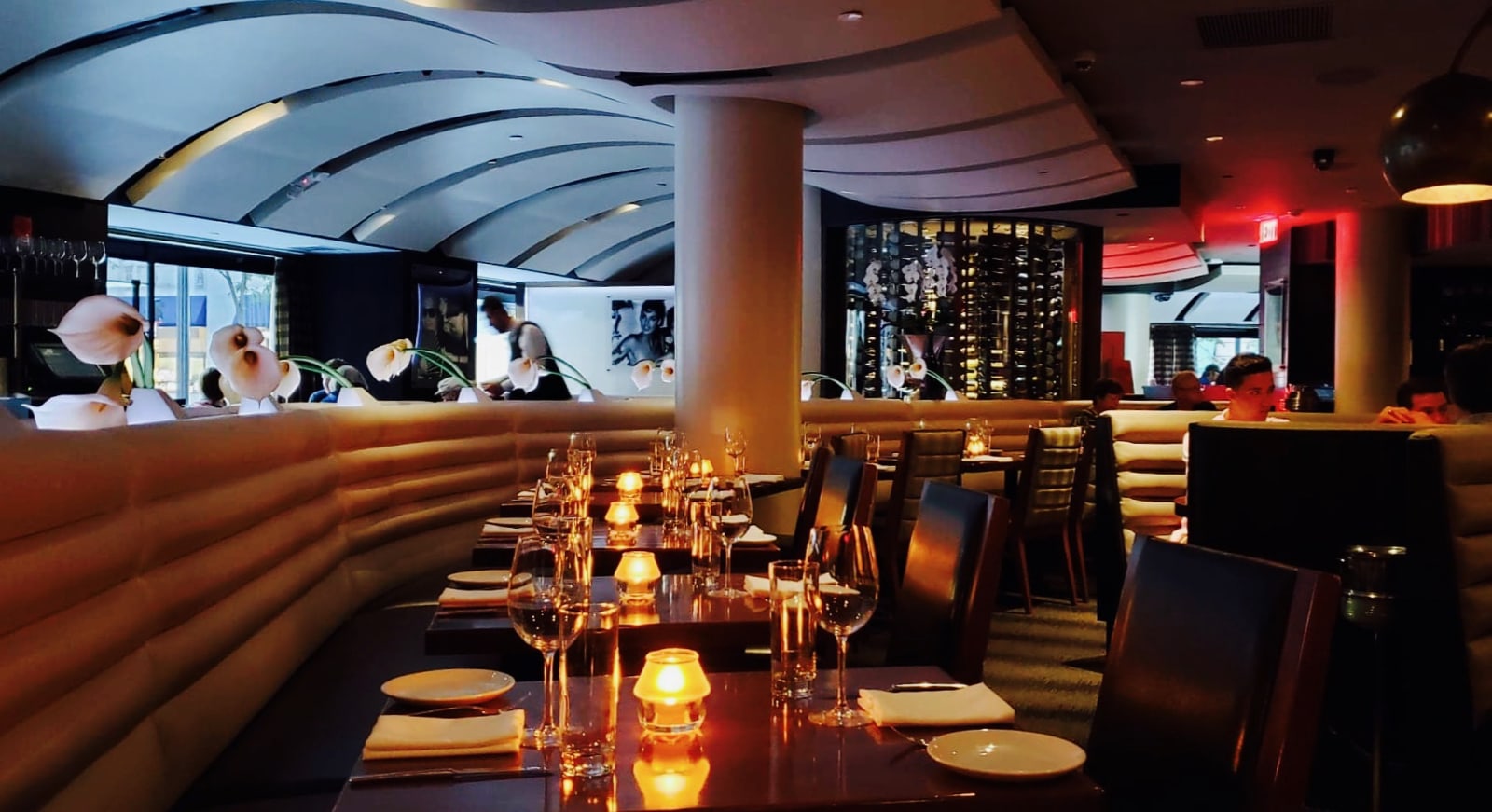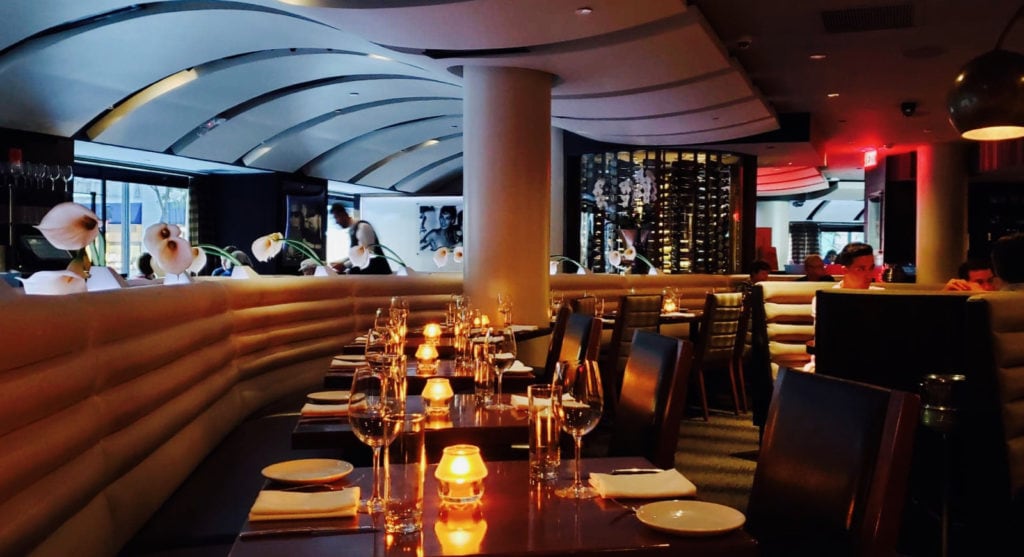 STRIP By Strega – a tony steakhouse with fantastic cuts of meat, fish, and chicken dishes. Steaks range from $38-$65 and more for Japanese Waygu, but it's worth it for a special night splurge.
Starbucks – this is not your average hotel Starbucks. This is a full-service, takes-your Starbucks-card, has everything property. And, it's right off the hotel lobby.
Just the Facts
The Boston Park Plaza is a dog-friendly hotel: up to two dogs of any size are allowed in each room (but cannot be left alone). Rooms start at $120 midweek in Winter, and average in the $300's per night during the summer months. Wi-Fi is an additional $12.95 per night, valet parking $58 per 24 hours, and there's a $75 pet cleaning fee.