Last Updated on July 16, 2020 by Malerie Yolen-Cohen and Sandra Foyt
No neighborhood rising from the ashes earns trendsetter-cred until a funky boutique hotel opens in its midst. And so, I present, BKLYN House Hotel, where "provocative street art and fine art live side by side."
For travelers with a sense of adventure, and who are perhaps visiting friends or family nearby, the 116-room BKLYN House Hotel offers a clean, artsy, loft-like, "stay local" option over a commute back and forth to Manhattan.
There was a time, not too long ago, when the Bushwick section of Brooklyn was known for its embattled streets. Those who could, decamped for safer places to live. Shops were shuttered, homes abandoned. It was not a place anyone would consider living.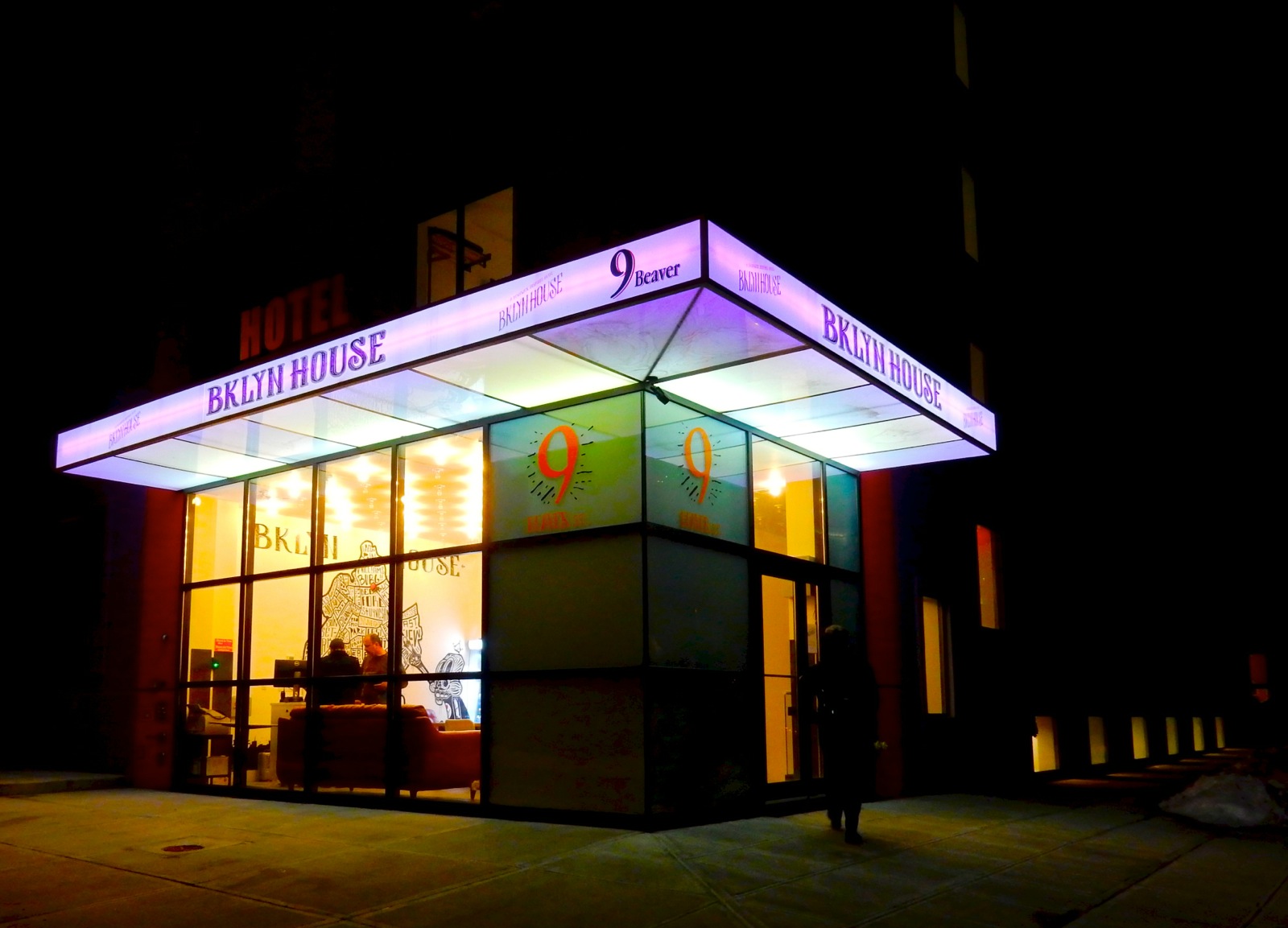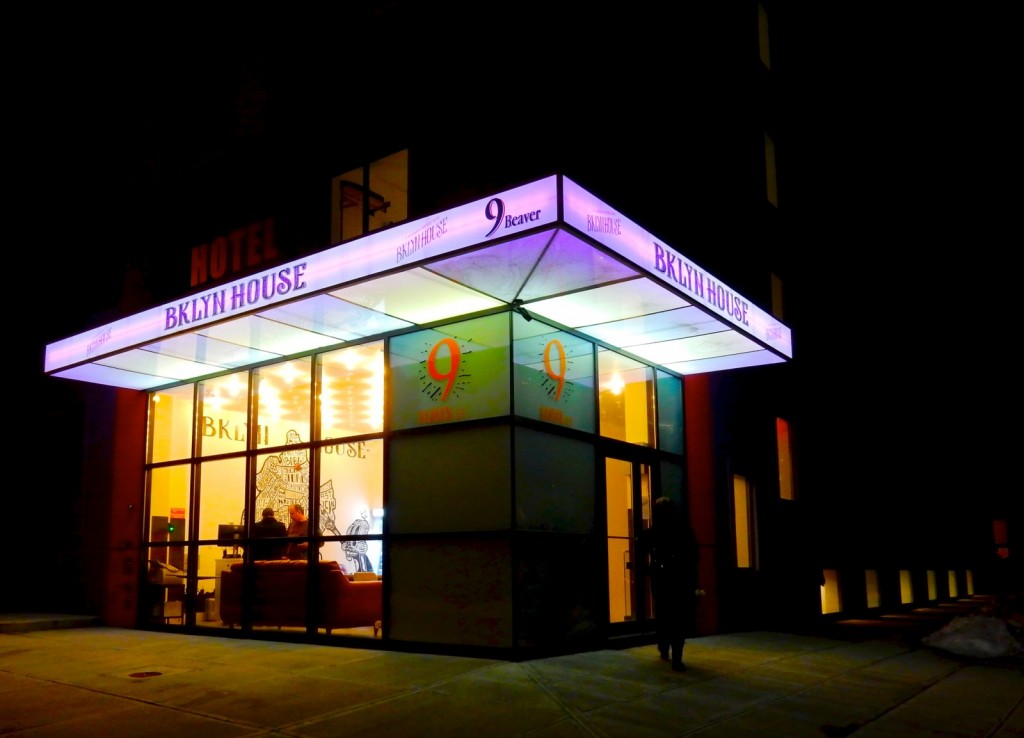 But now, children of those expatriates are coming back. Gaggles of them, opening up (and patronizing) candlelit restaurants, art galleries and oh my gosh, gentrifying this heretofore decaying neighborhood.
First Impressions Of BKLYN House Hotel
A black and white Keith-Haring style mural in a small contemporary lobby depicts all neighborhoods in Brooklyn with a red "You Are Here" pin for Bushwick.
This sets the tone for what seems like a very upscale hostel (if hostels had pillow-top bedding and Paul Mitchell amenities) next to shuttered stores and graffiti-spattered construction fences. New buildings are sprouting all over the place nearby.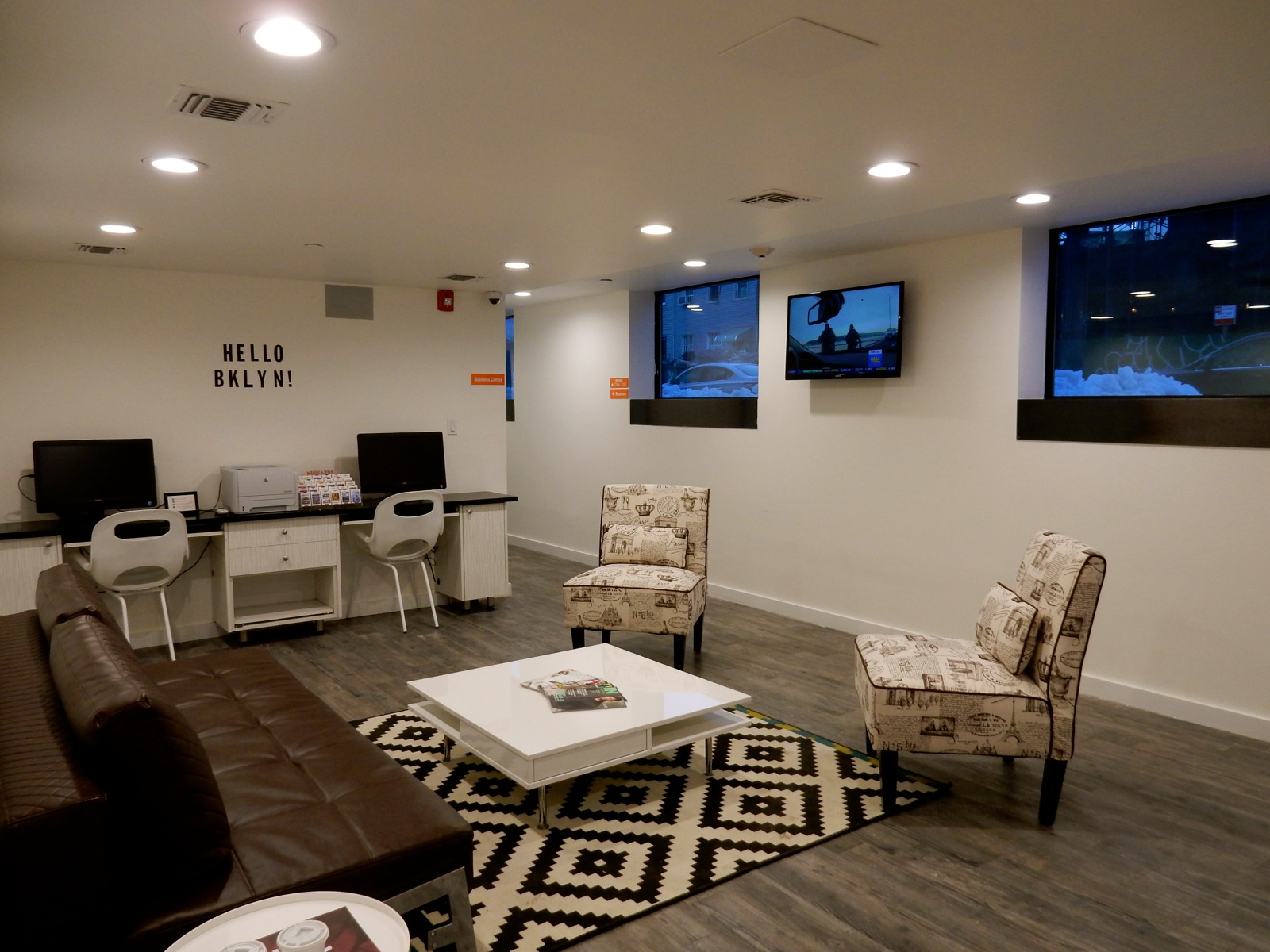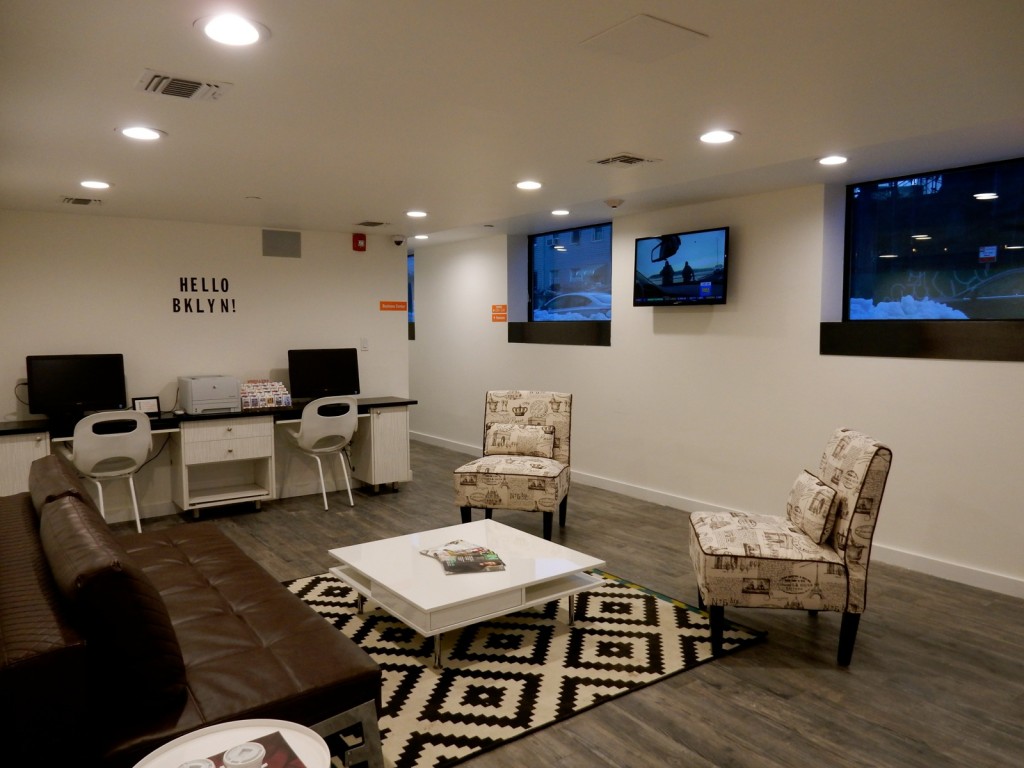 The Business Center features several desktop computers, printers and fax machines. This room, a few steps down from the lobby, also serves as an ersatz art gallery – representing local work with a Brooklyn theme.
Every piece of art, like the street sign pop-art by upbeat Bushwick-booster and exhibit curator, Savior Elmundo, somehow references this borough of NYC. Walls are covered with realistic maps to abstract Jackson Pollock-like representations.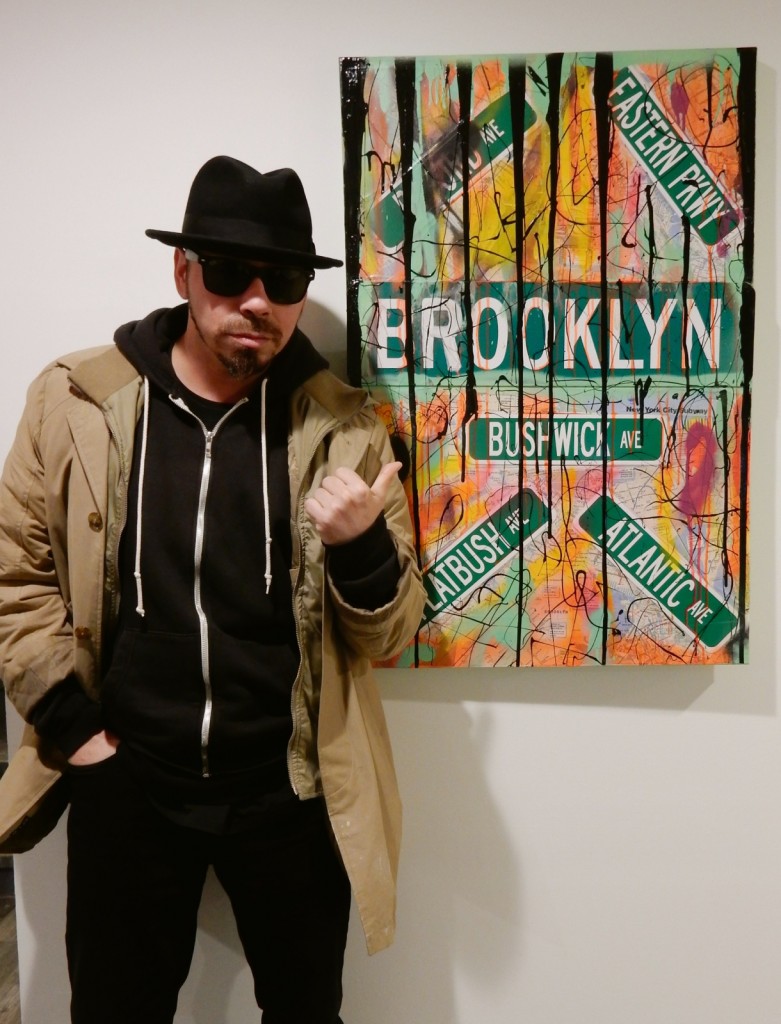 Each of eight floors features it's own funky to fab mural. Created by eight different artists, each depicts a different Brooklyn neighborhood.
To see them all, begin on the 8th floor (a psychedelic Coney Island) and work your way down (Red Hook, Crown Heights, DUMBO, Fort Greene, Flatbush, Bed Stuy) for maximum effect.
Rooms at BKLYN House Hotel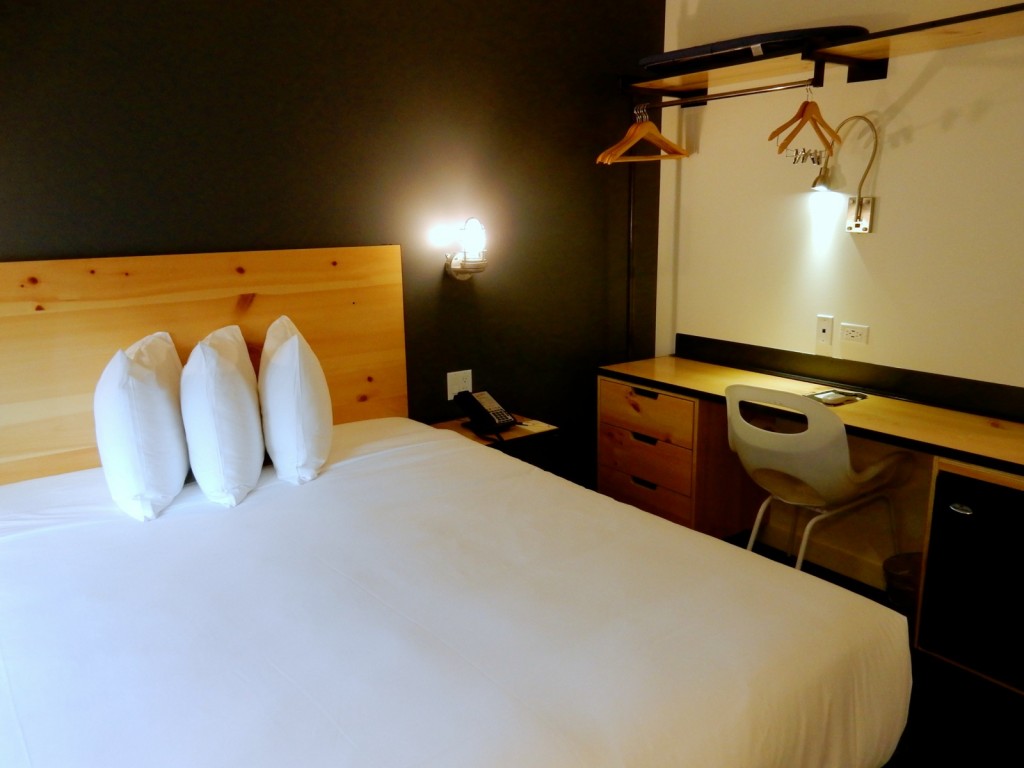 Small rooms sport dreamy pillow-top bedding – with some of the softest sheets I've ever slipped between. Dark walls, industrial wire-cage wall sconces, simple pinewood desks, with clothes racks above, scream youth hostel. Large flat screen TVs do not.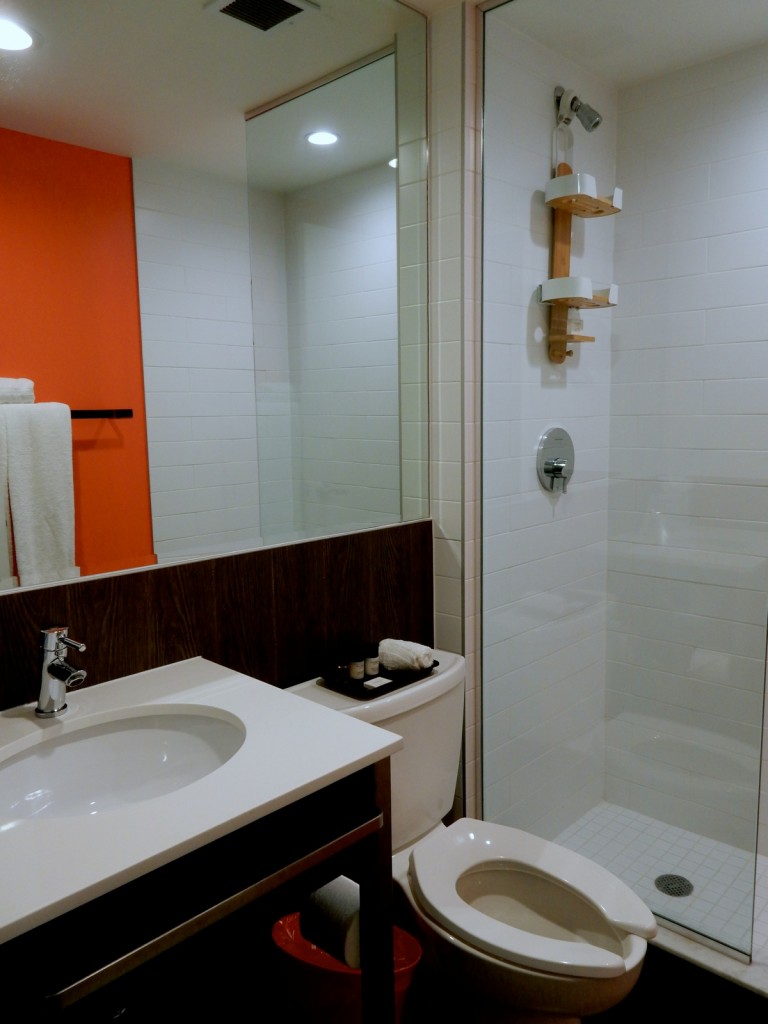 The bathroom is delightful – something you won't find in a budget hotel. It gleams with white subway tiles in a glass shower, and is punched up with one bright orange wall. For all the rustic-Brooklyn sparseness of the bedroom, the bath is top-of-the-line modern.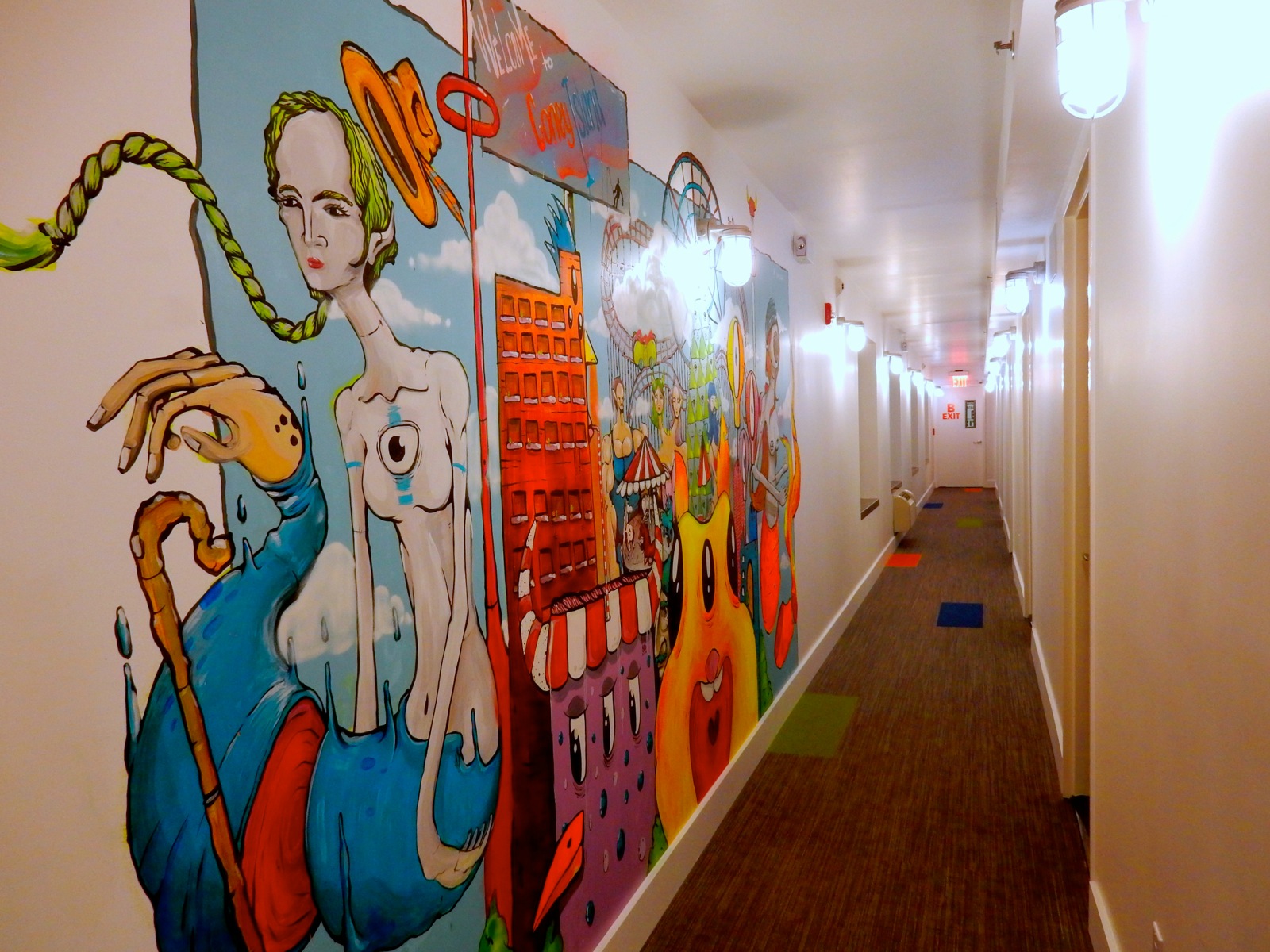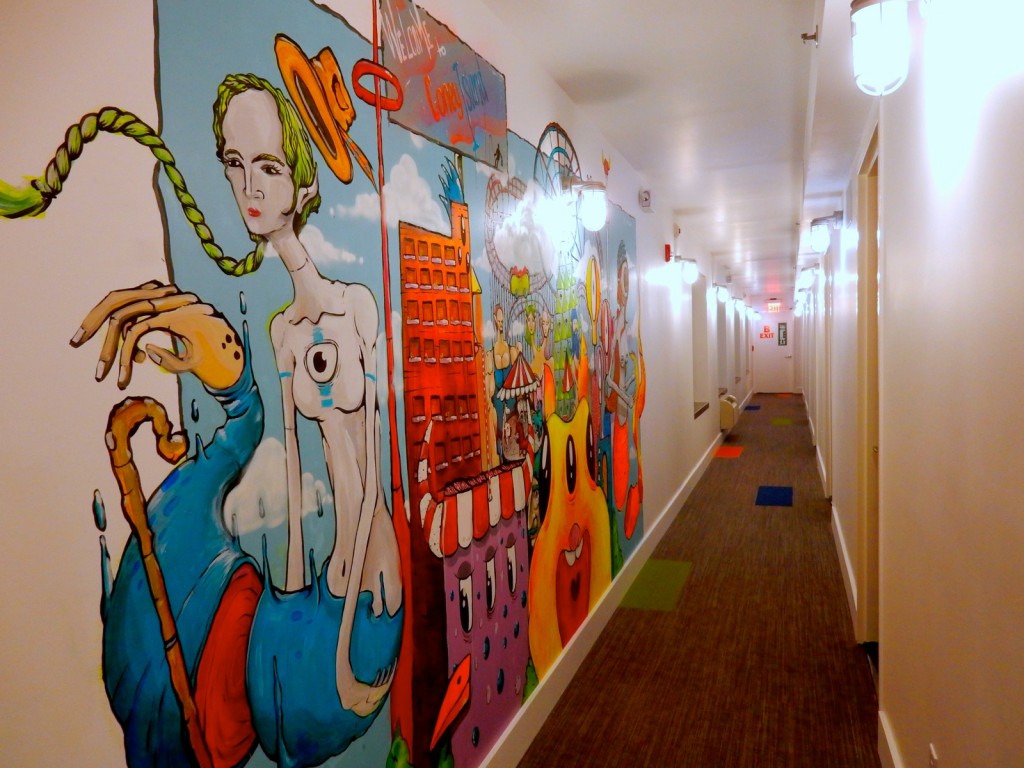 You'll find "restricted" views of downtown Manhattan from the upper floor rooms, although they may be completely obstructed by a proliferation of new construction nearby.
Better to look inward and think of BKLYN House as a Museum of Emerging Art and gathering place for experimental artists, rather than expect the type of vistas you'll find closer to the East River.
Breakfast and Restaurants Nearby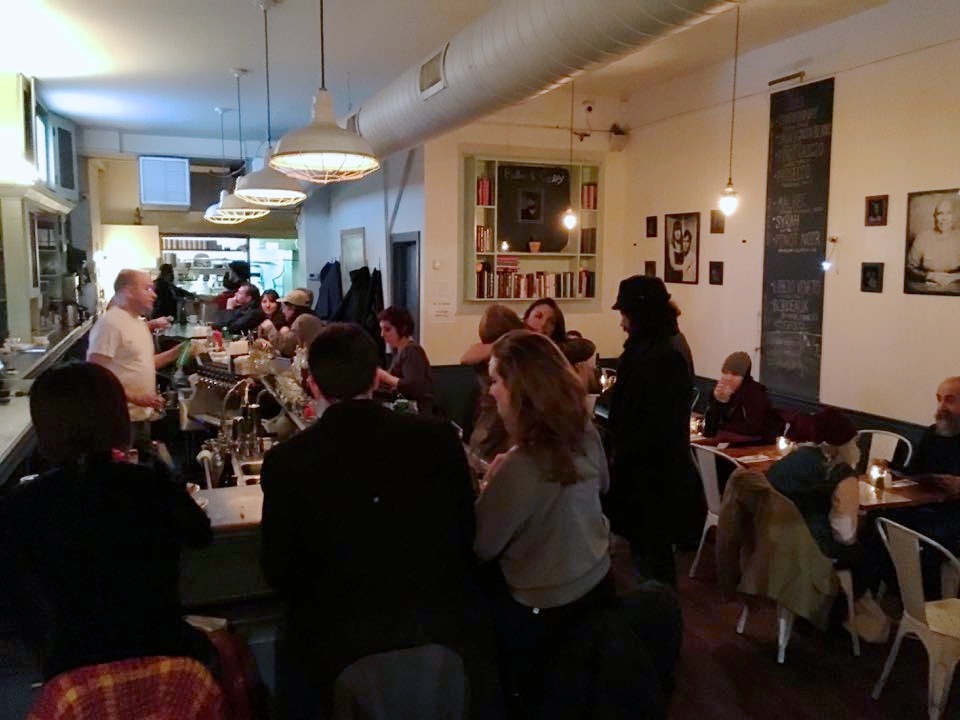 Room rates include an expanded Continental Breakfast, with baked goods, fruit and cereals.
You'll have to take a walk in the neighborhood for lunch or dinner. In the last few years, chains like Taco Bell and Chipotle have sprung up. And of course, there's the ubiquitous NY deli, like JK & Sons nearby.
But pizza fans will love Cheeze Louiez Pizzeria, which delivers by the way. The Haitian eatery, Cafe Erzulie, is a "cafe by day and cocktail bar at night." Both are a few blocks away.
But the first trendy-upscale restaurant that emerged on Flushing Ave. is 983- Bushwick's Living Room. This cute candle-lit American Comfort Food eatery was an early pioneer in this transitioning area.
Surprisingly, even on a Tues night in freezing January, the place was packed with well-dressed young adults, drinking signature cocktails and feasting on Buffalo Chicken sandwiches, from scratch meatloaf, and other hearty dishes.
Just the Facts
Mid-Week off season, rates go way down – some to $85 per night. Figure on $120-$150 per night, which includes breakfast, wi-fi, fax, and daily newspaper.