Last Updated on
A version of this article was published in
National Geographic Traveler April 2011.
For more on these towns and many others in the Northeast USA from Virginia to Maine, consult the
GetawayMavens.com
.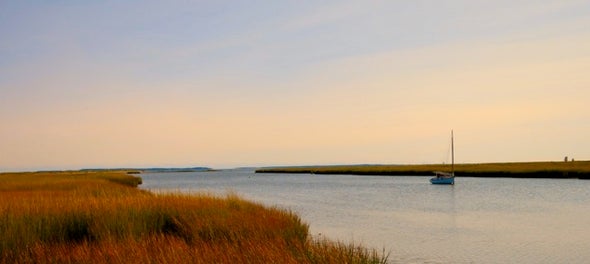 BOAT OFF SMITH NECK RD. OLD LYME CT
When Ayn Rand needed to research
The Fountainhead,
when Katherine Hepburn yearned to escape the frenzy of Hollywood, when President Taft sought a summer home, they all came to this sliver of Connecticut that many travelers miss. Most assume that the dingy industrial harbors glimpsed through windshields while barreling north on I-95 from New York to Boston define the Connecticut coast. But that just isn't so.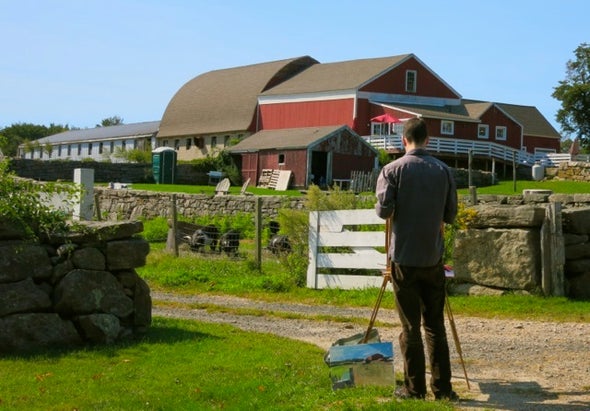 ARTIST AT WORK, OLD LYME CT
Exit the thruway, hug the coastline, and witness what artists and writers admire about the Connecticut waterfront; salt marshes that spread like the Kansas prairie, sea-stained buoys that hang from weather beaten balconies, pink granite outcroppings, and breathtaking views of pristine coves and towns, all in the particular light that inspired the American Impressionist movement.
From New York City, drive 90 miles north on I95 and get off at Stony Creek (Exit 56)
, just north of New Haven to begin your coastal drive. Spend a couple of days exploring the region that's a bit Florida Everglades, a bit Maine Coast, but is singularly Connecticut.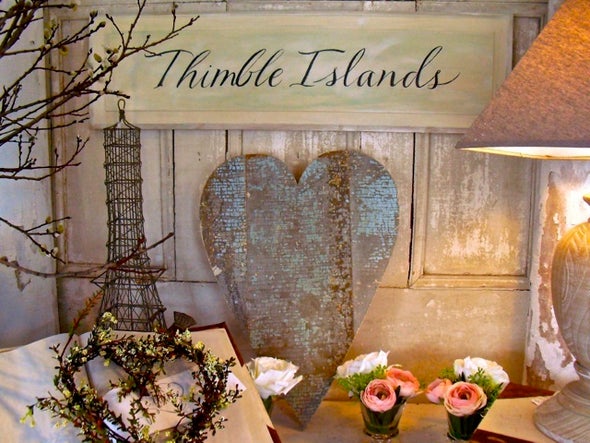 From exit 56, drive 3 miles to the
Stony Creek
Town Dock to take a cruise on the
Sea Mist
with Captain Mike around the mauve-colored
Thimble Islands
(named for the prolific Thimble Berry, not their size)—a collection of over a hundred islands of various sizes (only twenty five inhabited) – some no bigger than a stepping stone, others large enough for 32 houses. President Taft summered on Elton's Island and, at the height of his popularity, Tom Thumb courted a woman on Cut-In-Two Island. About a mile away,
Stony Creek Quarry
still turns out the same stone upon which Thimble Island homes, both baronial and whimsical, sit. Chunks of "Stony Creek Pink" form the base of the Statue of Liberty, the abutments of the George Washington Bridge, and the entire AT&T Building in New York. While researching for her book,
The Fountainhead
, Ayn Rand lived in Stony Creek, gleaning background information for the main character, Howard Roark, who takes a job in a Connecticut quarry. Grab a bite at either
Stony Creek Market
or
Thimbleberry Café,
and peruse the gifts, jewelry and housewares at
Seaside Shop.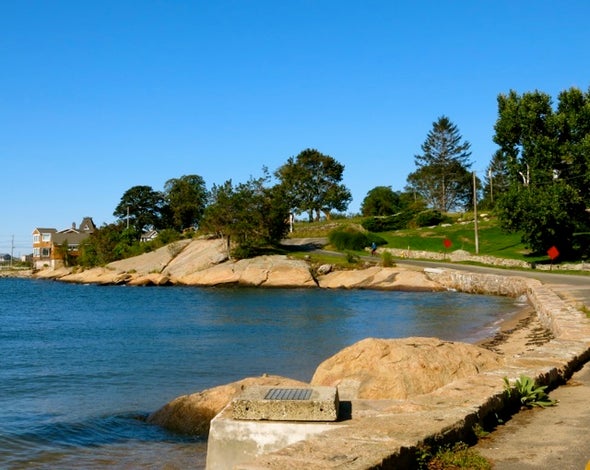 PINK GRANITE SHORELINE, CONNECTICUT COAST
From Stony Creek, drive 6 miles east on Leetes Island Road/Route 146, passing small coves, vibrant salt marshes and pink stone features that continue into the
Guilford
shoreline. Guilford is best known for the
1639
Henry Whitfield House,
the oldest home in Connecticut (and oldest
stone
home in New England) and the
Guilford
Town Green
– once grazing area, graveyard and fairgrounds- where tourists now swarm booths at annual craft and lobster festivals. Check out great shops like
Ella
for comfy, trendy women's clothing,
Breakwater Books
to pick up a real-page turner, and
The Marketplace
for craft beer on tap or a midday snack. If you crave unusual crafts and wearable art, stop into contemporary gift shop,
Mix Design
and fused glass workshop and gallery,
Chroma
. To get the best overview of Guilford's historic homes and shoreline, join Rich Petrillo on a delightful
Segway Tour
. "It's a walking tour in fast-forward," says Petrillo, who narrates while rolling with his guests past colonial houses, through the Guilford Town Green then out to the harbor to see sweeping views of salt marsh, Osprey nests, and shore birds diving into the water like crashing kites. Afterwards, if it's a nice day, drive east on Route 1 about ½ mile to
The Place
, an outdoor, seasonal barbecue spot which counts Will Ferrill and Martha Stewart among its fans. Beefy guys, presiding over a humongous flaming grill, char ribeye, salmon, clams, and corn to perfection.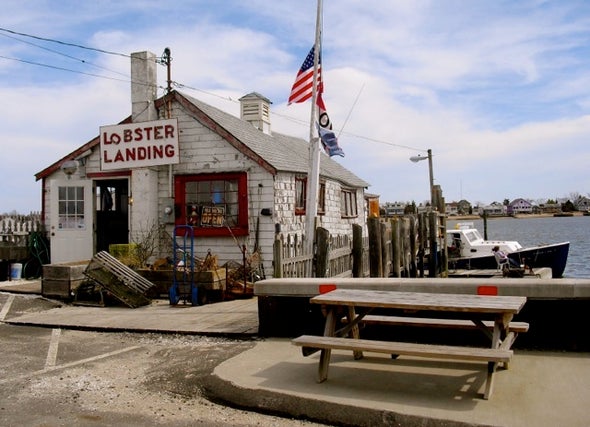 LOBSTER LANDING, CLINTON CT
From
The Place
in
Guilford
, continue east on Route 1 ten miles to
Clinton
where antique nuts will enjoy sifting through vintage goods at the
Clinton Antique Center
. Bone up on American history trivia at the
1630 House
(now the Tourist Information Center). You'll learn, among other things that Yale College was established in Clinton in 1701 (before money was endowed to build a permanent campus in New Haven), and emerging Postmaster General Benjamin Franklin placed a milestone on the "Post Road" – now Main Street – in the 1750's. To get a feel for the coastline and serpentine inlets,
rent a kayak
, life vest and laminated map at
Indian River Marina,
from which you can paddle the winding, weeping-willow studded Indian River into Clinton Harbor and up the grassy Hammonasset River, gliding past Ospreys, Herons, Cormorants and a plethora of gulls. Need a snack? Down the street, gobble up an award-winning lobster roll—a simple toasted hoagie roll brimming with chunks of lobster drizzled with butter—at what is arguably one of the last authentic lobster shacks in Connecticut
, Lobster Landing.
A few miles up the road in Madison, you'll find the
RJ Julia Booksellers
, a fantastic indie bookstore that for over 25 years has put this town on the map. If you are so inclined, bed down at the
Madison Beach Hotel
– the only
sandy beachfront luxury lodging
on the Connecticut Coast.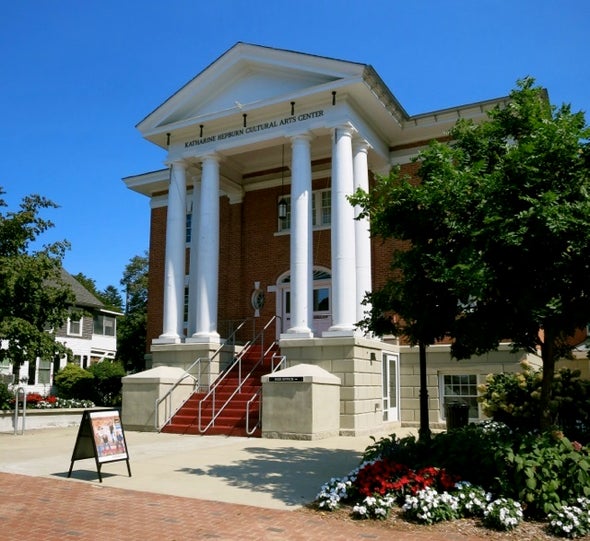 THE KATHARINE HEPBURN CULTURAL ARTS CENTER – THE KATE – OLD SAYBROOK CT
From Madison, drive 5 miles northeast on Route 1 past faded motels, strip shopping centers and the myriad marinas of Westbrook where thickets of masts create the illusion of forested coves. Turn right on Route 154 towards
Old Saybrook
Shore Points crossing causeway bridges, and traversing neighborhoods where relatively modest homes front an ever widening Long Island Sound. One of these neighborhoods is
Fenwick,
where actress Katharine Hepburn lived in her beachfront mansion until her death at the age of 95. Take in a show at the
Katharine Hepburn Cultural Arts Center
in the center of town. "
The Kate
," as the Arts Center is affectionately known, hosts dance, theater, opera and film events in a cozy 250-seat auditorium. Stay at the antique-filled
Saybrook Point Inn and Spa
(which provides discounted tickets to The Kate) for great marina and Sound views, or in one of Saybrook Point's two new "Boutique Inns" –
Three Stories
or
Tall Tales
– across from the main property. Plan to have dinner at the wonderful in-house
Fresh Salt Restaurant
, or in town at
Liv's Oyster Bar
.
Soaking Up the Lyme Light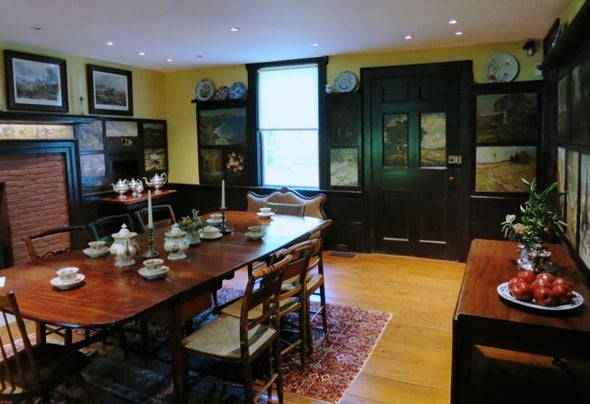 Alternately, you can jump onto I-95 North and cross the Connecticut River to
Old Lyme
for some French refinement at the swanky nine-room
Bee and Thistle Inn,
and onsite
Chestnut
Grille
restaurant, a favorite of celebrity chef, Jacques Pepin. Old Lyme remains a thriving art colony and bird watching paradise (modern-day Audubon, Roger Tory Peterson – of the Peterson's Field Guide to Birds fame – lived here). Each morning, fog creates the hazy tableau of an impressionist painting; a blurred, muted landscape in the very place considered the birthplace of American Impressionism. You can easily spend a day at the
Florence Griswold Museum
, a compound that includes the Georgian-Style main house, a modernist gallery building, a barn studio, and acres of gardens and plantings set on the Zen-serene Lieutenant River. In the mid 1800's, to keep from loosing her home after her husband died, Florence Griswold rented rooms to artists drawn to the brilliance and clarity of light in Old Lyme. Childe Hassam, Henry Ward Ranger, and dozens more moved in and painted on everything within sight, including Griswold's cupboards and doors. You can still see these preserved cabinets during the main house tour along with hundreds of paintings on exhibit there and in the museum's separate Krieble Gallery. But don't leave before taking canvas, smock and palette (all provided in the price of admission on Sunday afternoons) behind the studio to the meadow-like banks of Lieutenant River to fulfill your Monet fantasies in the exact spot where American Impressionists were inspired. You'll jump back onto frenetic I-95, with a greater understanding of the artistic appeal and beauty of the Connecticut Coast