Last Updated on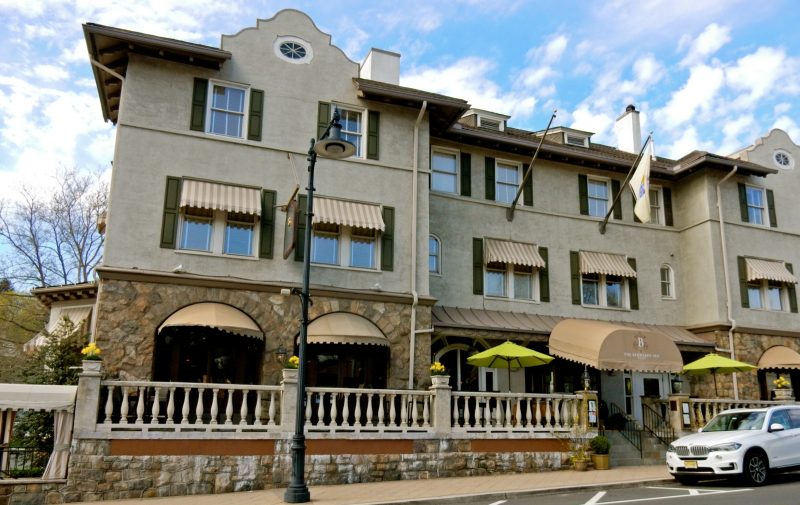 Built in 1907, the 20-room Bernards Inn has been a central player in this small town for over 100 years. Run more like a country inn – with room décor a page right out of George Washington's look-book- and a terrific restaurant, Bernards Inn is perfect for the history buff who shuns cookie cutter hotels for a more authentic stay. And if you're a history buff with a Tesla, you're doubly in luck. The Bernards Inn parking lot has a dedicated electric car-charging station.
A few caveats, however. This is an old hotel with all that implies. Floors slope. All guestrooms are on the second and third floors, and there are no elevators. A bellman will help lug your luggage up the stairs, but you will have to walk up yourself. Rooms do not have thermostats so, if the temperature is not to your liking, you must call the front desk to change it. And the Bernardsville Train Station (commuter) is right across the street, with trains running round the clock. If track noise bothers you, it could be an issue.
Since Bernards Inn opened in 1907, it's gone through a succession of ownerships and mixed-uses (town jail, post office, shops, speakeasy), but has always been at heart an inn and restaurant. As Verizon is headquartered just down the road, the Inn caters to a cadre of corporate travelers who shun impersonal chain hotels, but it also does a brisk Romance and European traveler business.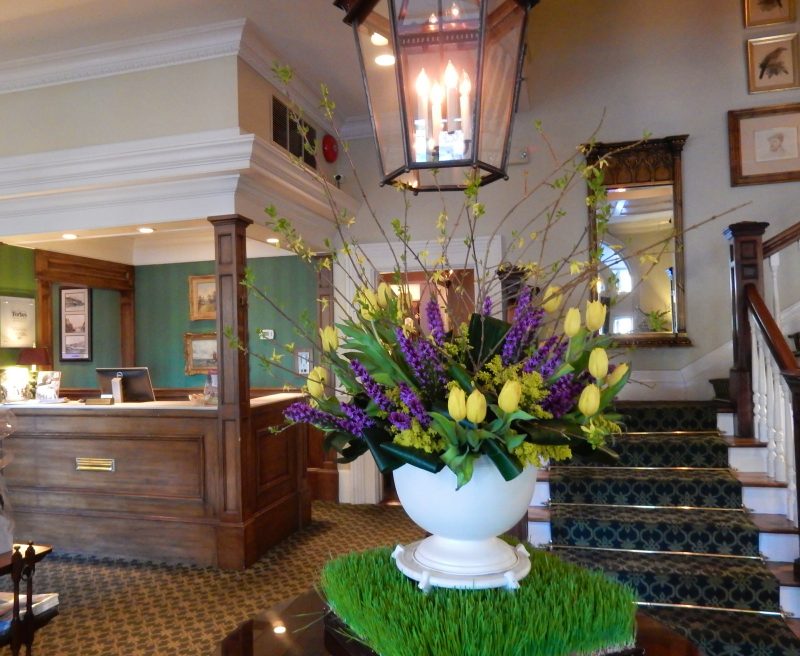 Taking up a whole corner of downtown, Bernard's Inn impresses even before you walk in. In season, you'll pass by patrons dining on the street-front patio as you make your way inside a small but antique-filled lobby, brightened by a huge floral arrangement that is changed every two weeks. Check in is personal and friendly, with a bellman dispatched quickly to help with luggage. A "Welcome amenity" awaits each traveler, in my case a whole unpeeled orange and a couple of the pastry chef's famous chocolate chip cookies – a nice touch in an elegant room.
Rooms at Bernards Inn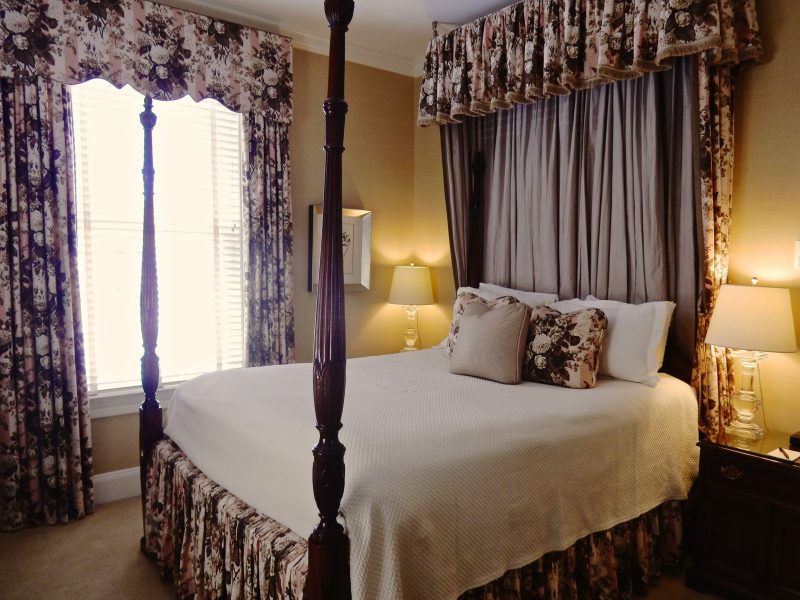 Room 6/7 is a large two-room suite with a sitting area and cozy bedroom. The floral drapery, carved four-poster bed, and other Federal style furniture would make our Founding Fathers feel right at home. As befits a luxury inn, there's a flat screen TV, and joy oh joy, several electric outlets right on top of the bedside table. I didn't have to fish around for them behind the bed or curtains. Bathrooms are small but immaculate and bright – with white subway tile and pedestal sink. And, as a reminder that this is a luxury inn, there's turndown service at night. It's always nice to have a mass of pillows removed and bedding ready to slip into.
Dining at Bernards Inn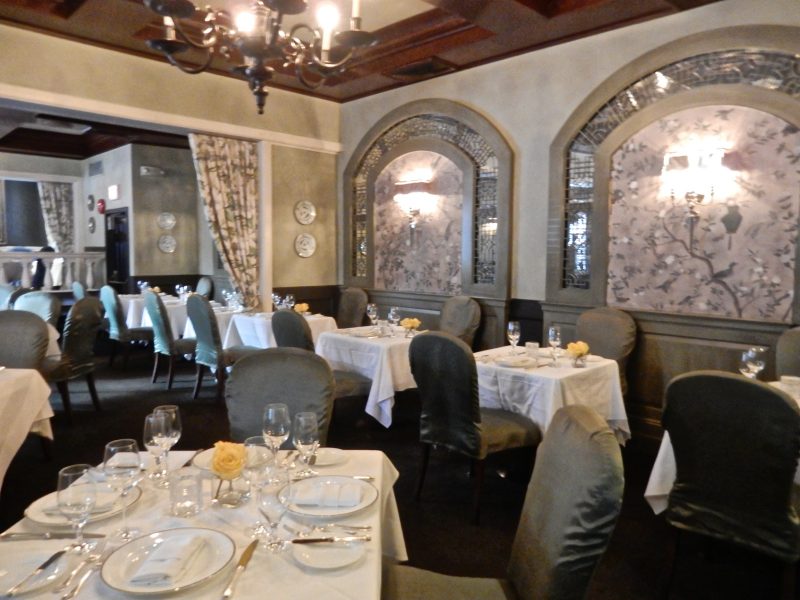 Chefs go almost every day to the Inn's farm, which gives you an indication of how fresh the food is here, even for breakfast. In the morning, soft jazz plays in the casual sun-lit dining room. The waitress actually asked if I prefer "milk or cream" with my coffee ("skim milk?" "yes of course!" "yay!), then welcomed my request to throw some onions and pepper into my "well-done" hash browns. Her can-do attitude turned a basic 2-egg hash-browns bacon and toast breakfast ($13.95) into a positive experience that set the tone for the day.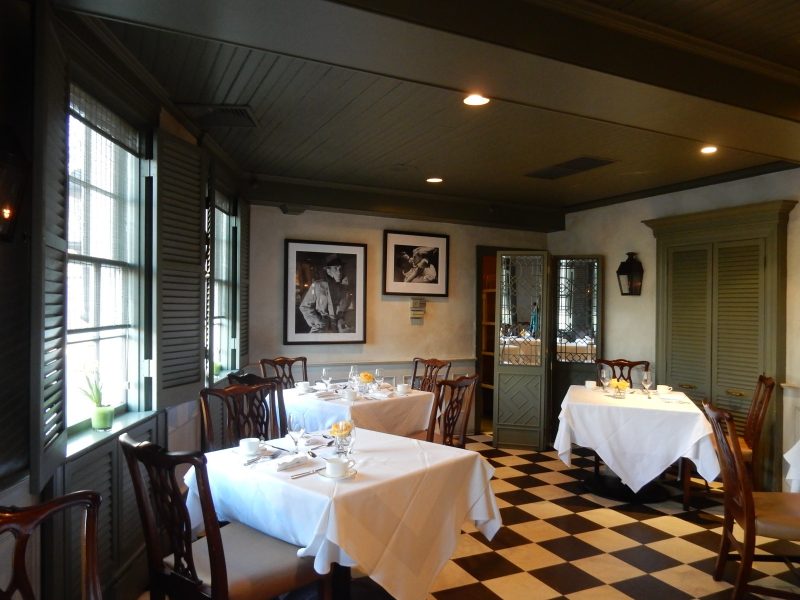 For lunch or dinner, you can choose your ambience. Want a drink and ap? the hexagonal bar, rimmed with 22 chairs and high top tables, offers the most casual experience. Though the more refined, quiet, and formal dining room in back opens when busy and for special occasions, I preferred the bright 20's vibe black and white tiled space within view of the bar's mixologists, who were preparing concoctions like "Snap To It," using pea puree and mint to make a house cocktail.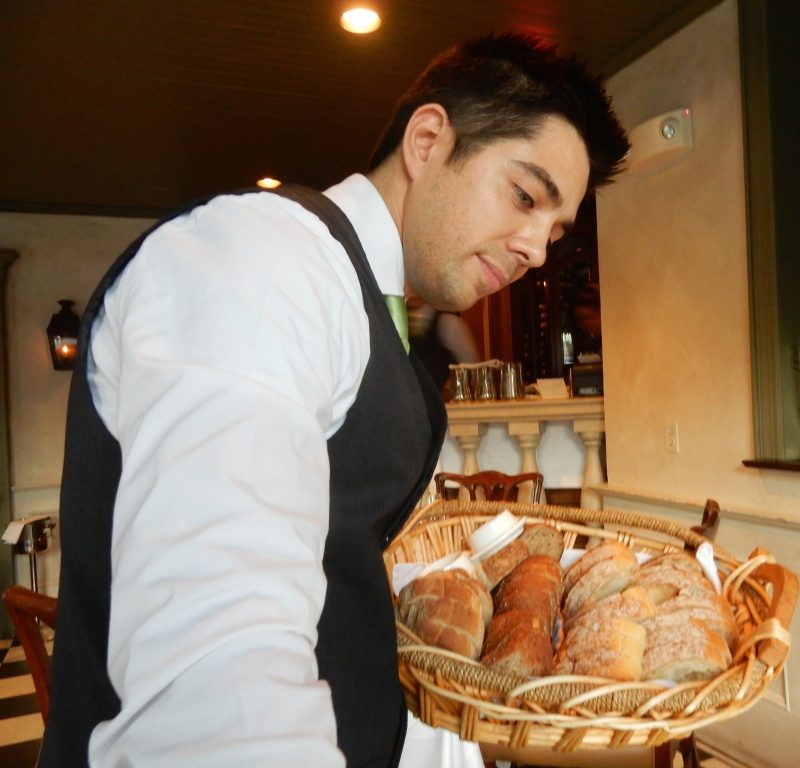 While the 6-course Tasting Menu ($95 for food alone, $145 and $195 with wine) is fantastic for a celebration, try one of the seasonal signatures. Appetizers like Charred Asparagus on freshly picked greens ($14), and Roasted Cauliflower Soup ($12) satisfied my rabbit side, while the Rack & Crepinette of Lamb ($40) provided the perfectly balanced umami for my carnivore core. Though full, my "desert pusher" insisted I try the Banana Tart Tatin ($11): warm sautéed bananas in puff pastry and a side of creamy vanilla ice cream. It's lick-the- plate indulgent.
Just the Facts
Rooms from $200-$350 per night include parking and wi-fi. The Bed and Breakfast package is most popular.
For recommendations on what to see and do in the area, check out THIS POST from Getaway Mavens.