Last Updated on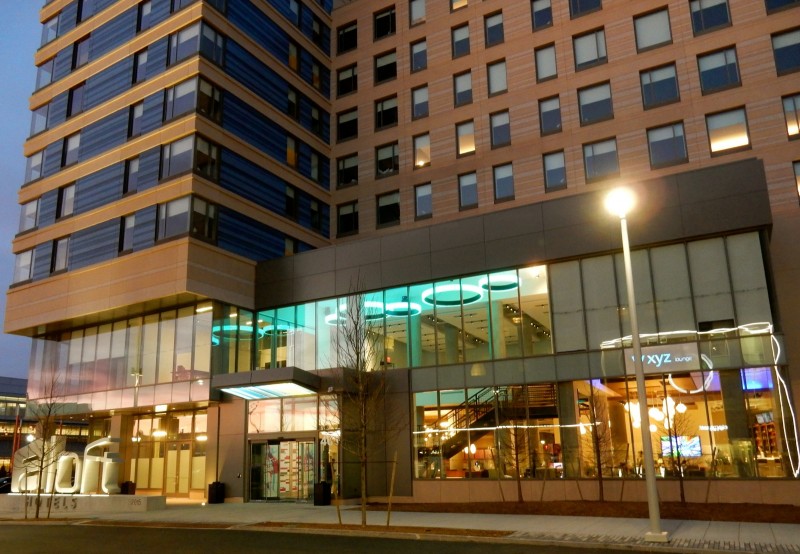 The Aloft Boston Seaport is the funky and wild little sister to the responsible older brother that is Element Hotel next door. Element is neutral colors, properly tidy, and environmentally conscious. Aloft is just crazy fun.
Miles from downtown and quite a walk to the waterfront, Aloft (along with its neighbor, Element) is perfect for Convention Center and Lawn-On-D goers and trendsetters looking for the next-best mid-priced hotel in Boston.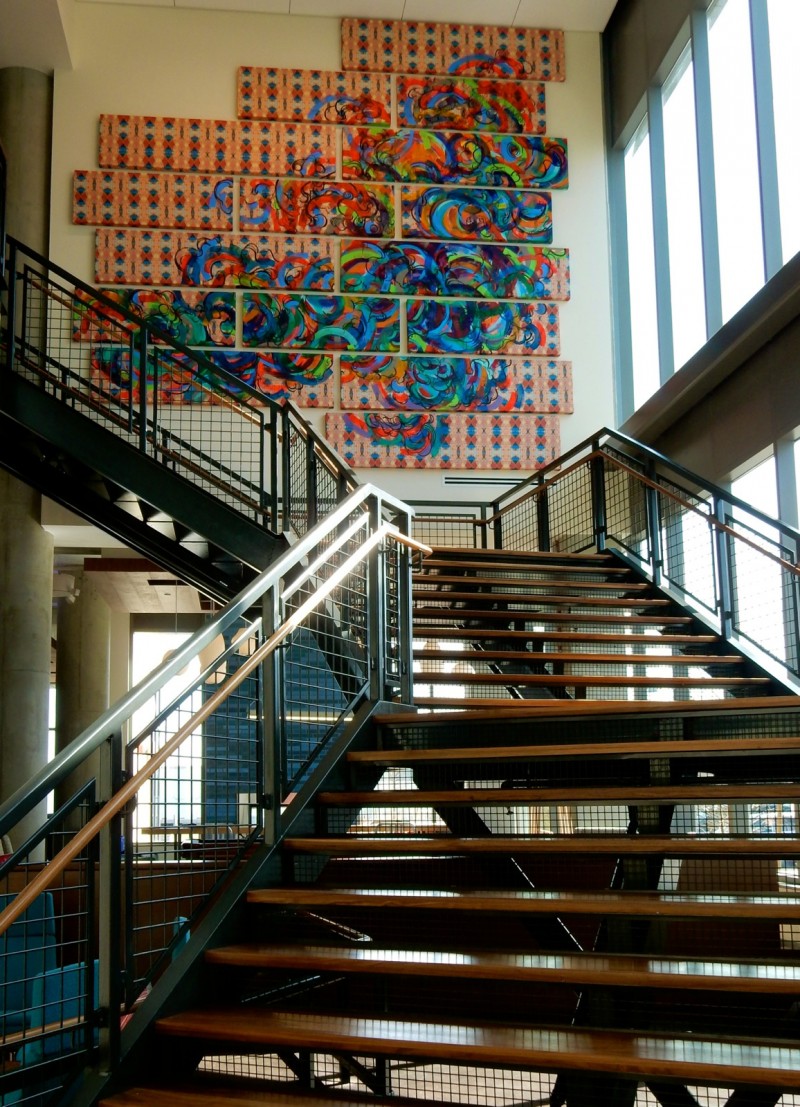 There are 107 Aloft Hotels worldwide – 75 in North America alone –  with more to come. This reasonably priced Westin Specialty brand, created in the vision of W Hotels, is trending faster than any other Starwood subsidiary throughout the world. Walk into the brand new (Feb '16) 330- room Aloft Boston Seaport, and your preconceptions of chain hotels will be blown out of the water.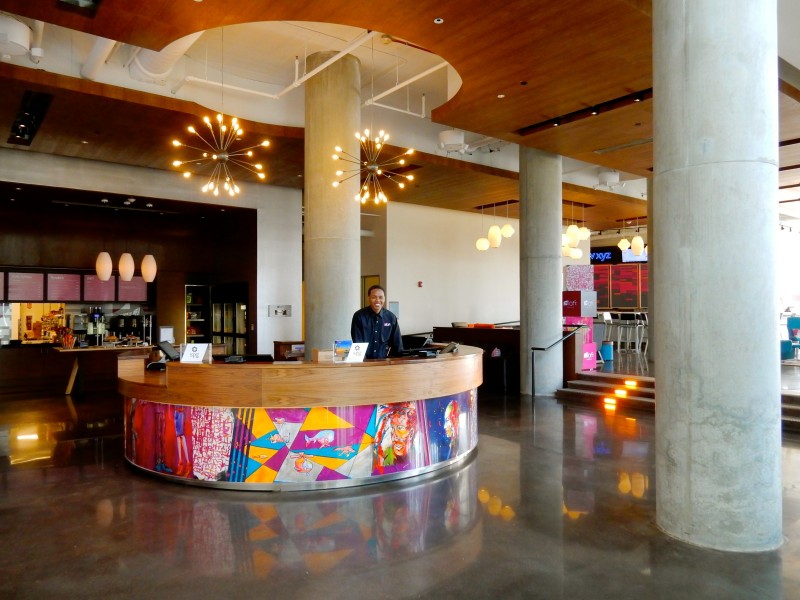 The lobby of Aloft Boston Seaport is trendy, a bit edgy, soaring and vibrantly colorful. Concrete columns, polished poured cement floors, exposed pipes in the ceiling: this is the highly social, amenity packed warehouse loft apartment building you've always wanted to move into. The pool table is constantly in use, guests text on cell phones from brightly colored mid-century modern chairs and couches, the WXYZ Bar (open 5pm-Midnight daily) draws guests for cocktails and small bites, and Thursday Night Live @ Aloft features local up and coming musical artists.
Rooms at Aloft Boston Seaport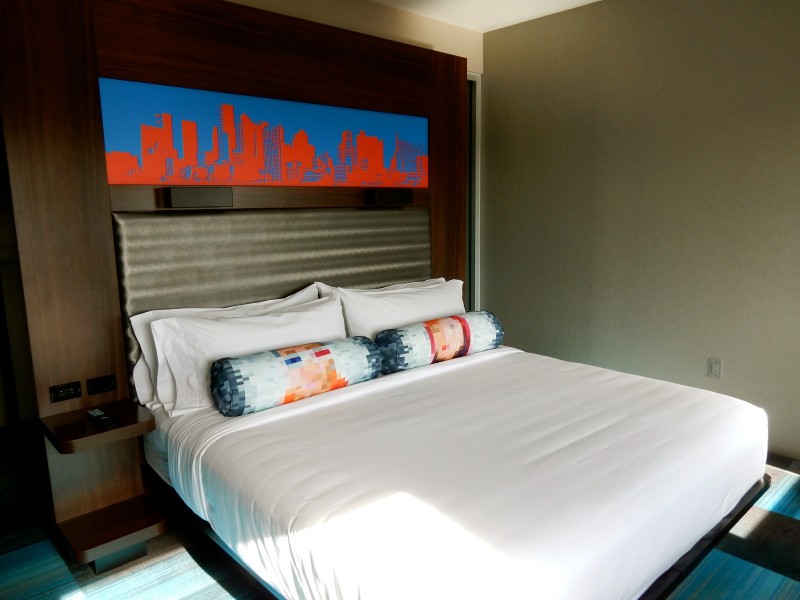 Rooms are small but well-designed with punches of color and bed headboard art in the silhouette of the Boston skyline. The pristine bathroom features a glass rain-head shower, Bliss products, modern raised sink and cool slate tiled floor.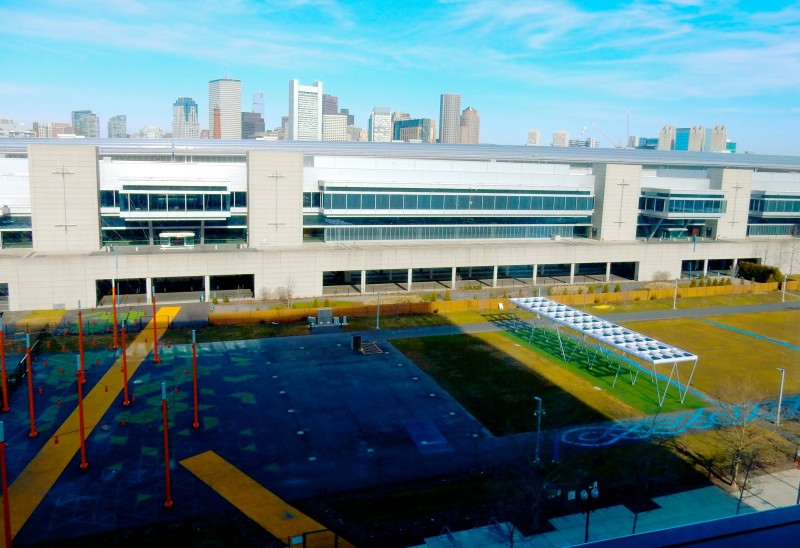 Some rooms overlook "Lawn On D" – an ersatz concert venue and playground for adults in the shadow of the Boston Convention Center – and downtown Boston beyond. (Hotel staff expects that come summer, Lawn On D concert-goers will flow into the WXYZ bar after the show).
Food at Aloft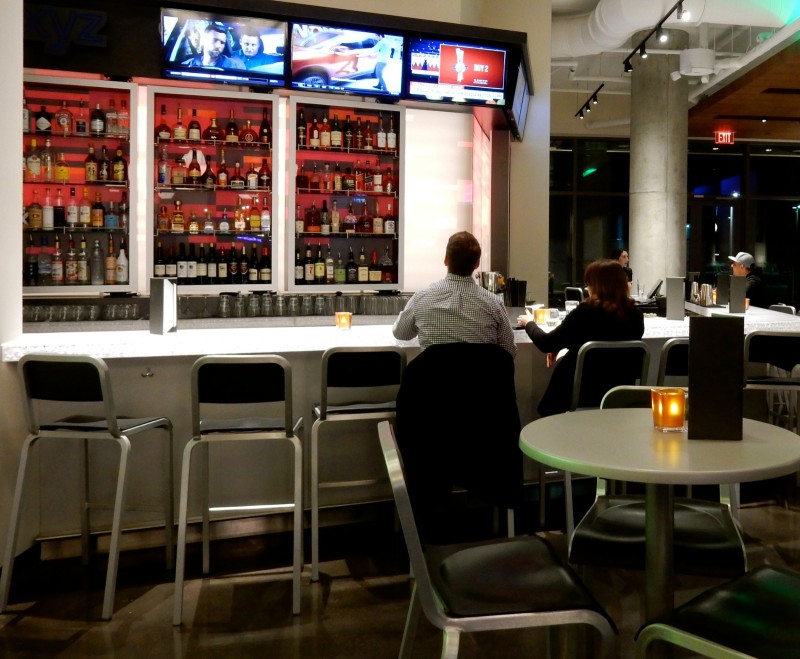 There's no restaurant in house, but you can get "small-bites" (tater tots, pizza, Caesar Salad) at WXYZ Bar from 5pm-midnight. There's also a small shop where you can pick up a packaged breakfast (not included in room rate), prepared meals, and even cartons of Ben and Jerry's ice cream – a boon for parents hosting kid's sleep-over birthday parties.
Aloft Amenities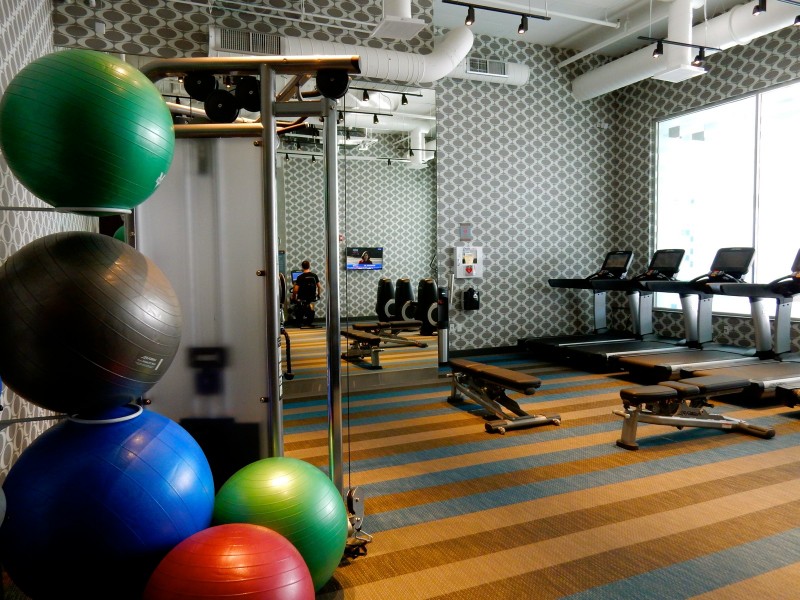 The large Fitness Room is bright and cheerful, with treadmills overlooking the indoor saline pool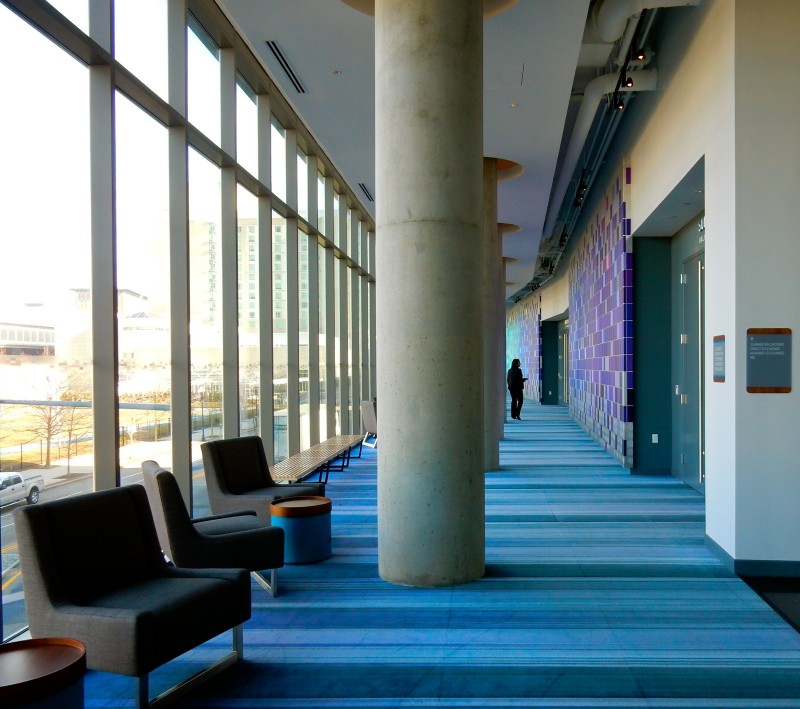 Though it acts like a boutique hotel, Aloft also has a whopping 10,000 sq. feet of meeting space. As a leisure-travel writer, I generally don't cover this aspect of lodging, but this Aloft's meeting room hallway, flanked by massive windows and vibrantly colored walls, is worth seeing, even if you don't plan an event there.
Just the Facts
Rooms $169-$400 depending on season and Convention Center capacity includes free wifi.