With the "Blizzard of the Century" bearing down on the Northeast, this roundup of charming hotels and inns is timely.
The following roundup was first published in the Huffington Post:
Imagine a crackling fire, a fine glass of wine, a decadent meal, and no need to call for a taxi or grab your car keys. Your room is right upstairs. Who wants to go out in that raging blizzard or ferocious thunderstorm, anyway?
The weather inside's delightful at the following ten hotels, inns and B&B's renowned for stylish accommodations, excellent staff, and exceptional, innovative chefs who will see to it that you are fed — body and soul.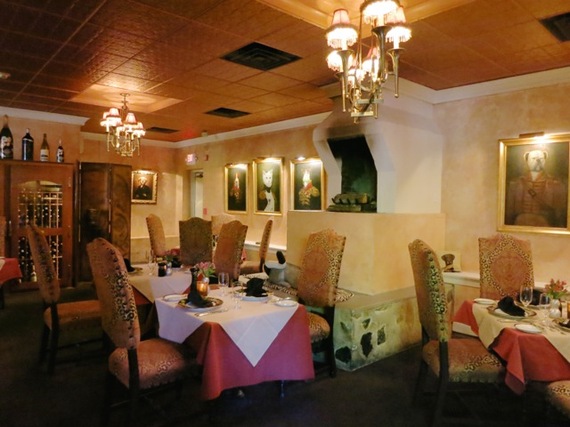 Inn @ Montchanin Village/ Krazy Kats
Montchanin, Delaware
Once housing the laborers who worked at the Hagley Powder Mills nearby, you can't help but feel a sense of irony as you meander down "Privy Lane" – original latrines line the street where upscale guest cottages now stand. The Inn at Montchanin Villagemaintains its historic value while providing seasoned travelers with the highest degree of service, amenities – and whimsy. Rooms are scattered throughout the property, so you might have to step outside for a few seconds, but it will be worth it for a meal at on-site Krazy Kats, the perfect example of clubby luxury that doesn't take itself too seriously (portraits of aristocratic cats and dogs line the walls). Known for wild game (e.g. Smoked Rabbit Chowder) and marvelous Crab Bisque, the chef does an expert job with Lamb Porterhouse, perfectly coated Caesar Salad, and flash-fried caramelized Brussels sprouts to die for. Afterwards, make a beeline to the main building and stunning "gathering room" where guests are free to read, enjoy a glass of wine (honor bar) or play board games in front of a huge fireplace. Rooms and suites at Inn at Montchanin Village from $192-$399 include free parking, wi-fi, coffee/tea and all the Hershey's Kisses you'll ever want.
You'll find the rest of the article on Huffington Post here.